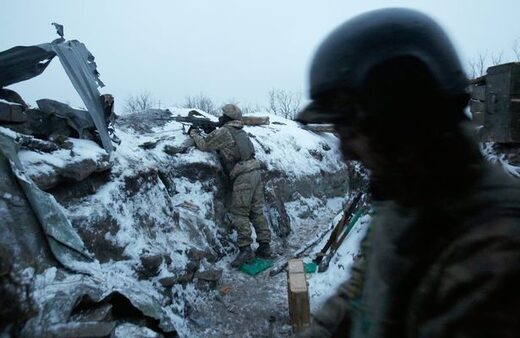 Kiev's troops on the ground are reportedly concerned that the government is clinging to a key Donbass city
Despite the Ukrainian leadership's insistence that its armed forces will continue to defend the Donbass city of Artyomovsk, also known as Bakhmut, there are indications of a looming retreat, according to Agence France-Presse (AFP).
"Bakhmut will fall," a Ukrainian tank operator told AFP in the town of Chasov Yar, about 10 km (six miles) west of Artyomovsk. "We are almost encircled. The units are progressively retreating in small groups."
The unpaved road connecting the two settlements remains the only one that is relatively safe from Russian attacks, the man claimed, warning that if Ukrainian armor gets bogged in the dirt, the vehicles could become easy targets for Russian artillery.
Comment:
Here is SouthFront's assessment of Bakhmut: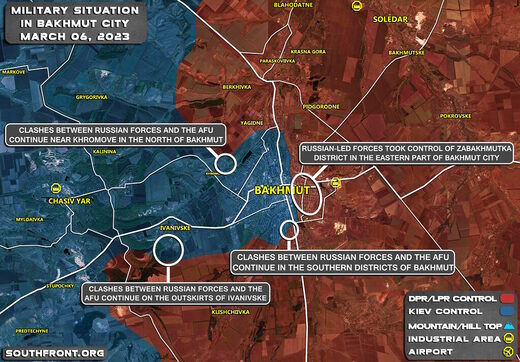 Military analyst Dimi of the
Military Summary
channel has a more detailed update: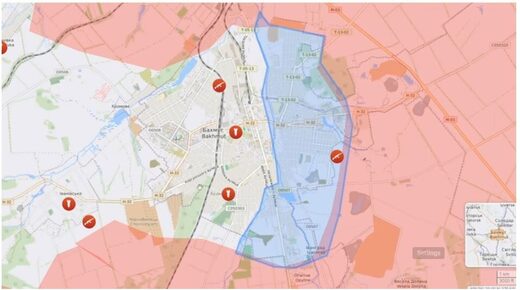 The news agency also cited the US-based Institute for the Study of War, which recently assessed that Kiev was conducting a limited tactical withdrawal from the city, which could lead to a strategic retreat.
On Monday, Kiev announced that it would keep reinforcing its position in Artyomovsk, despite heavy losses reported on both sides. President Vladimir Zelensky's office claimed the decision to defend the town was supported by Valery Zaluzhny, Commander-in-Chief of the armed forces.
However, according to sources in Kiev cited by the German newspaper
Bild
on the same day, Zaluzhny urged Zelensky to order a retreat weeks ago, which the president refused to do.
According to
Wall Street Journal
, some of the best-prepared Ukrainian units have been routed during fighting in the vicinity of Artyomovsk in recent months. There is a concern in the military that the losses would undermine the effort to mount a counteroffensive in the spring and summer.
"Here, we are using up too much of the offensive potential that we'll need for a breakthrough once Ukraine's black earth dries up," a battalion commander told the US outlet.
US officials downplayed the importance of Artyomovsk for the military situation in Donbass. Its possible loss by Ukraine "won't necessarily mean that the Russians have changed the tide of this fight," US Secretary of Defense Lloyd Austin explained on Monday, as cited by Reuters.
According to media reports, Zelensky fears a morale hit, having invested a symbolic significance in the settlement, which he declared a Ukrainian fortress.