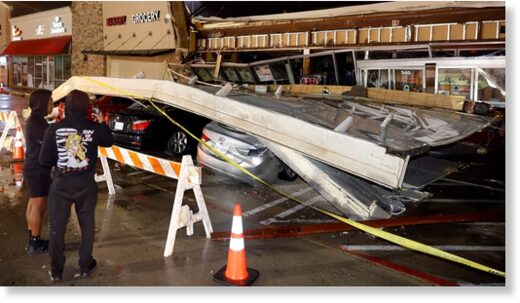 At least 13 people have died in multiple states due to severe weather across the country as a powerful storm system that brought
golf ball-sized hail and tornadoes
to the South continues to march Saturday across the Northeast.
The storm spurred wind gusts strong enough to topple tractor-trailer trucks, leaving more than 1 million people without power
and threatening to bring more torrential rain, tornadoes and heavy snow.
The storm system is the same that dumped feet of snow across parts of California, leaving some
trapped in their homes
with snow piled as high as second-story windows and prompting the governor to declare a state of emergency in 13 counties. Many of those affected are now bracing for another round of snow and rain on Saturday from a new system.
At least five Kentuckians have died in connection with the severe weather that hit the area Friday, Kentucky Gov. Andy Beshear said during a news briefing on Saturday.
CNN previously reported four deaths across the commonwealth in Edmonson, Simpson, Logan and Fayette counties.
The additional death being reported was an 84-year-old man in Bath County, Beshear said.
Beshear said it will take days to restore power in some places, and that as of 11:11 a.m. ET Saturday, 396,517 Kentuckians were without power. He said 1,874 Kentuckians are under a boil water advisory with five water districts working under limited operations.
In Tennessee, two people died. A man was killed after a tree fell on the vehicle he was riding in, the Humphreys County Emergency Management Agency told CNN via email. An elderly woman in Hendersonville died after a tree fell on her while she was walking with a neighbor Friday, according to a news release from the City of Hendersonville.
A high school student in Sumner County, Tennessee was critically injured Friday by a tree that fell during severe storms and is not expected to survive, local officials said Saturday. According to Liberty Creek High School, Brooks was being kept on life support until Sunday. "Even in her passing, she will give back to others by being an organ donor," the school announced. "Please join us in praying for this family and all who were fortunate enough to know her."
Three other people died in Alabama, one in Arkansas, one in Mississippi and one in California, according to officials.
Nearly 15 million people were under winter weather alerts as of 8:45 a.m. ET Saturday along the West Coast and in New England, with another 25 million under wind alerts.
According to PowerOutage.us, about 1.2 million customers were without power Saturday,
with Kentucky, Michigan, Tennessee, Ohio, Pennsylvania and West Virginia reporting the most outages.
Heavy snow is forecast through Saturday afternoon in northern New England, according to the National Weather Service, with a rain/snow mix in Massachusetts.
"Storm total amounts of 6 to 12 inches looks to occur within much of the Mohawk Valley, Adirondacks, Lake George Saratoga Region and southern Vermont," the National Weather Service in Albany, New York, wrote.
Weather brings tornadoes, flood warnings to the South
A tornado was confirmed at 11:12 a.m. CT Friday just south of Reidland, Kentucky, moving northeast at 55 mph.
Flash flood warnings at one point stretched about 400 miles across portions of Missouri and Indiana.
Meanwhile, more than 300,000 people remain under flood watches from Arkansas to Ohio.
In Texas, Louisiana and Alabama, the storms damaged homes and businesses and caused flight disruptions at airports Thursday.
Six tornadoes were reported during Thursday's storms, including five in Texas and one in Louisiana, where dozens of homes were damaged in the city of Shreveport. Across Texas and Oklahoma, there were 18 hail reports, with the largest hailstones reportedly 1.75 inches in diameter, or roughly the size of a golf ball.