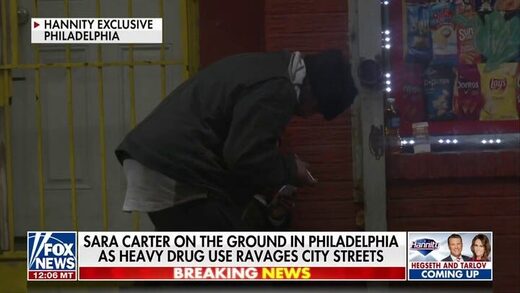 Philadelphia's open-air drug crisis is spiraling even more out of control, as Mexican cartel-supplied drugs flow largely unheeded over an
open southern border
, Sara Carter reported in a Thursday "Hannity" exclusive.
Philadelphia, which is exponentially closer to the northern border than the southern one, continues to experience a
heroin, meth and fentanyl epidemic
— prominently in the long-troubled Kensington neighborhood, east of Temple University and north of Old City.
Carter recounted traveling through block after block of the neighborhood, prominently marked by the El train that forms its proverbial backbone, witnessing untold numbers of people shooting up unknown illicit substances.
"Just so you can get a perspective here,
95% of the narcotics here in Philadelphia, according to law enforcement sources I've spoken to today, are coming from the Sinaloa Cartel
," she said.
"This fentanyl is coming across the border. Those fentanyl-precursor chemicals are coming from none other than China. They are coming to our streets and they are literally paralyzing our communities."
One drug addict Carter spoke with told her the horrors of addiction and witnessing other addicts in the area.
"If you notice all the wounds out here, I mean, there's, like, everybody's got wounds, amputees, more than not," the addict said, adding she has been in Kensington for about five years.
When asked about how Philadelphia addicts are sometimes described as "zombies," the woman said that everyone is a human being but that the moniker still fits at times.
"Yeah, we are people. We are, but we're also zombies. We're the living dead out here. It's terrible,"
she said.
The drug crisis previously reached a peak in Kensington in the late 2010s, when officials from both Conrail and the city itself worked to cleared out a notorious needle-ridden railroad viaduct along Gurney Street — infamously known as "the tracks" — in 2017.
Thousands of addicts frequented the three-quarter-mile trench, and many set up makeshift shelter there, largely hidden from sight at street-level — a plight that drew national attention at the time.
During his unsuccessful bid for U.S. Senate in Pennsylvania last year, Republican surgeon Mehmet Oz often called Kensington one of the nation's largest open-air drug markets.
On "Hannity,"
Carter went on to describe watching parents meet their children's school buses and encounter addicts as they walked home.
"[M]others, walking with their children, trying to navigate them around the drug usage, around the drug dealers. And I thought to myself, as a parent, you know, this is someone's child. This girl is on the street, but she is someone's child," she said.
"These are Americans that are dying on the streets. And I talked to law enforcement officials that believe that this is just the tip of the iceberg."
In recent comments about the crisis, Philadelphia Democratic Mayor James Kenney said it has "wrought incalculable harm on communities across the United States."
"The grief and community trauma have compounded for years
in Philadelphia
as well, especially here in Kensington and the surrounding neighborhoods," Kenney said at a Kensington event announcing allocation of opioid legal settlement funds to fight the epidemic, according to PBS.