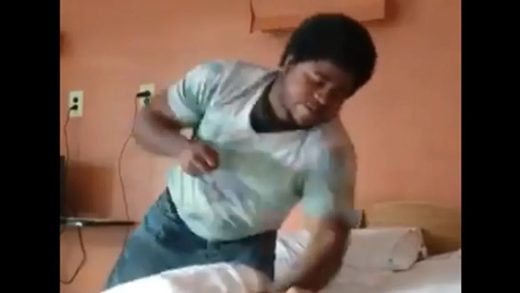 A Michigan father said his 20-year-old son, who was seen beating a nursing home patient in a viral video, was placed in the facility after he tested positive for the coronavirus.
The man, who has not yet been publicly named, is suspected of beating a 75-year-old veteran at the home after
footage of the incident surfaced
last week, but his family is horrified by his actions and said he has mental issues.
"He has issues and for them to put him in a facility like that, nothing good was going to happen," the suspect's
father told
7 Action News on Friday.
He said his son was recently moved to the facility after years of mental health issues because he was recently diagnosed with the COVID-19 virus.
"He never should have been housed ... quarantined with the victim that he eventually assaulted. That should have never happened," he said. "Someone dropped the ball."
Police in Michigan
arrested
the 20-year-old unidentified suspect believed to be the one in the video on Thursday.
"The nursing home was unaware of the assault until they saw the video," Detroit Police Chief James Craig
said
during a press conference. "We are still investigating that aspect of the case, but we do have a suspect in custody."
The video even caught President Trump's attention.
County prosecutors have a warrant request, but the charging request won't be signed until Sunday.