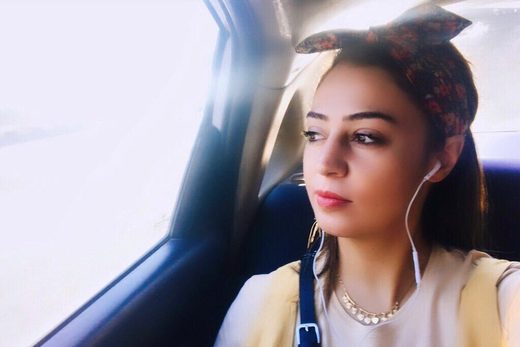 Palestinians are expressing outrage after hunger-striking prisoner Heba al-Labadi, 24, revealed new details surrounding her interrogation by Israeli forces and numerous torture tactics used on her in order to force her to end her strike.
Al-Labadi, a Palestinian-Jordanian national, was detained by Israeli forces on August 20th at the Allenby Bridge border crossing while she was traveling with her mother, on their way to attend a family wedding in the West Bank. She has been on a hunger strike in protest of her detention for 15 days.
According to
Haaretz
, her arrest was related to meetings she allegedly had with Hezbollah-affiliated individuals in Beirut while visiting her sister. Her lawyer clarified, however, that she met one time with an announcer from a Hezbollah-owned radio station.
Her case, along with several other young Palestinians of university-age
arrested
in recent weeks, has garnered lots of attention locally and on social media.
A second Jordanian national of Palestinian origin, identified by local media as Abdulrahman Marei, was reportedly arrested on September 2nd at the Allenby Bridge, also on his way to attend a wedding in the West Bank.
"In recent days, the Zionist Occupation waged a vicious arrest campaign against a number of students at Birzeit University, in an attempt to constrain the rising role of the Student Movement at the university, both as a platform for national and political action and as one of our few remaining barricades in the struggle against the occupation.

We, as Palestinian students across the globe, say in a unanimous voice, that we reject completely the policies of arrest, oppression and terrorism that are exercised by the occupying forces against our students wherever they are located. We further affirm that these attacks will only strengthen the student movement and increase its solidness in the face of zionist colonialism in all forms and methods.

Therefore, we call all student bodies and councils, as well as all youth groups, in all of their respective locations, to increase and intensify the level of their work, and to rally public opinion around the case of Palestinian students under arrest, as a response to the repression and increasing constraints the student movement has had to recently face."
For the first 25 days of her arrest, al-Labadi was denied visitation from her lawyers,
and was only transferred from an interrogation to a prison 32 days after her arrest.
On September 25, more than a month after she was arrested, Israeli authorities issued a six-month administrative detention order — with the possibility of renewal — against her, prompting her to begin her hunger strike.
Al-Labadi's lawyers confirmed that she has lost some eight kilograms (around 17.5 pounds) of weight since starting her hunger strike, and has continued to refuse any food, vitamins, and salt, accepting to only drink water.
The widely condemned practice of administration detention, which allows for the indefinite detention of Palestinians without charge or trial, allows Israeli authorities to imprison individuals

without ever informing them why.
Finally on October 3rd, al-Labadi's lawyer Samer Simaan, was allowed to visit her. During the visit, al-Labadi spoke of the horrific conditions she is being held in in Israel's Jalameh prison.
"After Hiba announced her hunger strike, she was transferred to isolation in Jalameh Prison, where she reports being abused and harassed by the prison guards attempting to make her end her hunger strike," Adameer reported, recounting al-Labadi's statements to her lawyer.
According to al-Labadi, Israeli guards enter her cell to search her every two hours, including throughout the night.
"Hiba's isolation cell is filthy and has surveillance cameras," Addameer said, adding that the cell has no windows, and is fitted instead with an air conditioning unit "meant to keep the cell cold."
"There is nothing in the isolation cell except for one dirty sheet. Hiba is not allowed any yard time," the group added.
Additionally, al-Labadi has not been able to shower since being transferred to Jalameh because the area where she is to shower is "completely exposed."
Middle East Monitor, citing the PLO Prisoners' Committee,
reported
that Israeli interrogators "got close to her body intentionally and used the dirtiest words to insult her," citing accounts from al-Labadi.
She also reportedly told the committee that Israeli interrogators "insulted Islam and Christianity," and "said that I am an extremist and told me that they had arrested my mother and sister and they would put me under renewable administrative detention for seven and a half years and then release me to the West Bank and put me under 24-hour surveillance."
All of these conditions, including the lengthy interrogations and harassment by soldiers, the groups say, are meant to pressure al-Labadi into ending her hunger strike,
which has been gaining increasing attention locally and internationally.
According to
Haaretz
, the Jordanian Foreign Ministry "delivered an official objection" to the Israeli ambassador in Amman demanding the release of both al-Labadi and Marei.
"Addameer holds the Occupation's authorities fully responsible for the lives of detainee Hiba Al-Labadi and all of the hunger strikers," the group said in a statement, adding that
al-Labadi is one of six administrative detainees currently on hunger strike.
"The Occupation's systematic and widespread use of administrative detention against Palestinians violates all applicable international conventions and covenants, and may amount to a war crime," the group continued.
As of September, Addameer recorded
5,000 political prisoners
being held in Israeli jails, including 43 women and 425 administrative detainees.
Yumna Patel is the Palestine correspondent for Mondoweiss.