Comment: This story SHOULD have rattled the markets and sent the price of oil sky high. But because the media largely airbrushes out Yemeni successes against Saudi targets, the illusion of stability on the Arabian Peninsula is maintained...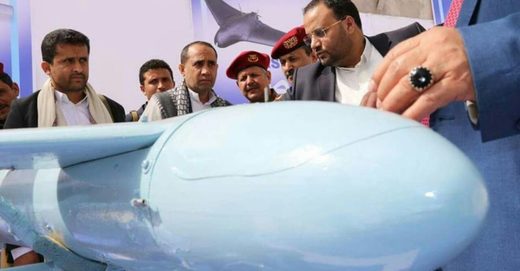 Aramco oil stations targeted as Houthi-run media says military operation a response to 'continued aggression'.
Armed drones attacked two oil pumping stations in Saudi Arabia
on Tuesday in what Riyadh called a "cowardly" act by Yemen's Houthi rebels, two days after Saudi oil tankers were sabotaged off the coast of the United Arab Emirates.
The drone strikes caused minor damage to one of the stations supplying a pipeline running from its oil-rich Eastern Province to the Yanbu Port on the Red Sea
, Saudi Energy Minister Khalid al-Falih said in a
statement
carried by the state-run Saudi Press Agency.
"These attacks prove again that it is important for us to face terrorist entities, including the Houthi militias in Yemen that are backed by Iran," Falih said.
A fire that broke out was later brought under control, but the country's state-run oil giant Aramco stopped pumping oil through the pipeline.
Falih called the attack "cowardly", saying recent sabotage acts against its vital installations not only target Saudi Arabia but the safety of the world's energy supply and global economy.
He also promised the production and export of Saudi oil would not be interrupted.
Oil prices rose on news of the attacks on the stations, 320km west of the capital Riyadh. Brent was trading at about $71 up 1.2 percent.
Houthi military spokesman Yahya Saree said seven drones carried out the strikes on the Saudi oil installations.
"It was a successful operation. We found assistance from people living in Saudi Arabia, and we had excellent intelligence," Saree said.
Andreas Krieg from King's College London said the drone strikes show the Houthis are now capable of attacking far into Saudi territory. He called the incident
"very significant" because the target was oil production.
"The Houthi capability has increased massively in recent years, some of it homegrown but [the attack] definitely suggests that the Iranians have helped out," Krieg told Al Jazeera.

Comment: The keyword being "suggests". There's as yet zero hard evidence of Iranian military assistance to the Yemeni insurgency. To listen to the media, you'd believe all Yemenis are goat-herders. But its population is 30% larger than Syria's, and just a few million less than Saudi Arabia's!


"They've never been able to deeply penetrate Saudi Arabia...
It looks like they are targeting the oil infrastructure.
"
Comment:
That this 'expert' doesn't know that this is NOT the first time the Yemeni insurgents have successfully targeted Saudi oil refineries, tells you how tight censorship in that region is.
18 July 2018:
Yemeni drone targets Aramco refinery in Riyadh
To listen to the global media, and to judge by the 'stable' oil prices, everything is hunky-dory. In reality, the Saudi regime is walking a tightrope. If the Houthi resistance spreads across the peninsula, it's curtains for the House of Saud.
Earlier on Tuesday, a television station run by Yemen's Houthi rebels said it launched drone attacks on Saudi installations, without identifying the targets or time of the attacks.
Tuesday's incident comes a day after Riyadh said two of its oil tankers were among
four vessels attacked
off the coast of the
United Arab Emirates
(UAE) on Sunday.
'Continued aggression'
The Houthis have repeatedly launched drone and missile attacks on Saudi Arabia and claimed to have launched strikes on the UAE.

Comment: They have done so, many times. They may even have hit a US ship or two. And they've certainly scared Saudis sh*tless with missile barrages hitting Riyadh. But world media - Arabic included - plays stupid and pretends it "never saw nuthin'."


"
This large military operation is in response to the continued aggression and blockade of our people
and we are prepared to carry out more unique and harsh strikes," Al Masirah cited one Houthi official as saying.