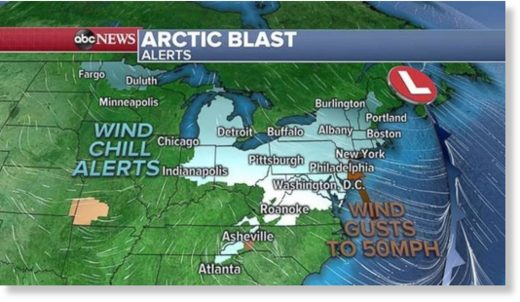 After a winter storm
brought up to 2 feet of snow to parts of the Midwest and Northeast this weekend, brutally cold temperatures swept through the eastern U.S. Monday.
Temperatures Monday morning were 30 to 40 degrees colder than just a day earlier in some areas.
In Philadelphia, it was 48 degrees on Sunday morning and a biting 12 degrees on Monday.
Wind chills are expected to remain dangerously cold all day, and parts of the Northeast wind gusts could reach 50 mph.
Wind chills Monday morning fell to:
minus 17 F in New York City
minus 14 F in Boston
minus 19 F in Hartford
minus 30 F in Albany, New York
minus 10 F in Philadelphia