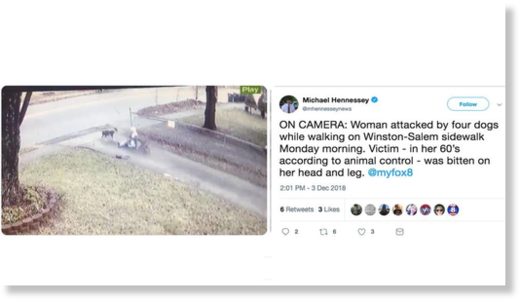 A woman was walking down the sidewalk in a Winston-Salem, North Carolina, neighborhood when she was attacked by a group of dogs, a video shows.
The woman was
bitten "on the back of her head, her leg and her arm"
Monday morning, Winston-Salem police Lt. A.J. Santos said, according to
The Winston-Salem Journal.
Police did not identify the victim of the attack, but Forsyth County Animal Services is investigating, the
Journal
reported.
A video of the incident shows the woman on the ground being bitten and pulled by at least three dogs. Two other dogs are seen running toward her in the video, but it was unclear if they also attacked her.
A neighbor rushes to the woman's rescue in the video, chasing away the dogs.
ON CAMERA: Woman attacked by four dogs while walking on Winston-Salem sidewalk Monday morning. Victim - in her 60's according to animal control - was bitten on her head and leg. @myfox8 pic.twitter.com/eaRTdMqC5i

— Michael Hennessey (@mhennesseynews) December 3, 2018
The woman, in her 60s, was on East Sprague Street near Peachtree Street
when she was attacked
, Animal Services said, according to Fox 8.
The woman was taken to Wake Forest Baptist Medical Center for treatment of her injuries, Animal Services said, according to Fox 8.
There were as
many as 11 dogs "running loose"
at the time of the attack, police said, according to WXII 12, and are believed to originate from a home on the 1200 block of East Sprague Street.
A man living at the address said one of the dogs is his, but "the rest are strays," Fox 8 reported.
The dogs were taken to the Forsyth Humane Society, Winston-Salem police said, according to WXII 12 and "charges are pending."