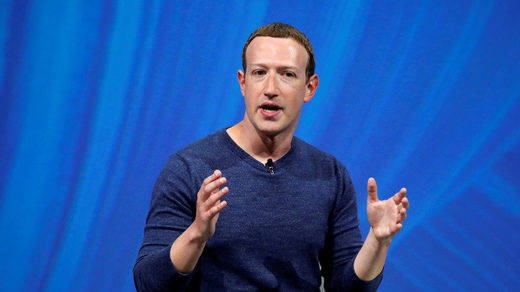 Facebook hired a PR firm that attempted to discredit the company's critics by claiming they were agents of billionaire George Soros, the
New York Times
reported Tuesday.
Soros is a Jewish philanthropist who is the frequent subject of
antisemitic
conspiracy theories. At the same time, the social media company urged the Anti-Defamation League to object to a cartoon used by anti-Facebook protesters over its resemblance to antisemitic tropes.
News of Facebook's aggressive attempts to undermine critics came in a damning report by the
Times
, detailing how Facebook executives have struggled to manage the numerous and severe challenges confronting the company, all while lashing out at critics and perceived enemies.
Rashad Robinson, the executive director of one of the groups targeted by the PR campaign, Color of Change, called the
antisemitic
smear "outrageous and concerning".

Comment: Oh, come on! It may be a conspiracy theory to see George Soros as an evil genius mastermind behind everything one doesn't like, but that doesn't make it antisemitic. The fact that he's Jewish is incidental. Identity-politics-obsessed media pundits and commentators, repeat: "Just because a Jew is accused of something nefarious, that does not make it anti-semitic." Some Jews are criminals too; some even engage in conspiracies. If the people making the claim are saying he's doing it because he's Jewish, that's another matter, but hardly anyone says that or even suggest it.


Amid growing pressure from lawmakers over its role in Russian interference in the 2016 presidential election, Facebook increasingly turned to
Definers Public Affairs, a Washington DC based political consultancy founded by Republican operatives and specializing in opposition research
, according to the report.
One of Definers' tactics was to publish dozens of negative articles about other tech companies, including Google and Apple, in order to try to distract attention from Facebook's public relations woes. Definers published the content on NTKNetwork.com, a website that looks like a news site but is actually run by the PR firm.
The narratives pushed on NTK Network were often picked up by conservative sites such as Breitbart.
Another tactic was
to cast Soros as the driving force behind groups critical of Facebook
. The firm circulated a research document connecting Soros to "a broad anti-Facebook movement", the
Times
reported, and pressed reporters to look into financial links between Soros and groups such as Freedom from Facebook and Color of Change.
Soros, who was born in Hungary in 1930 and made a vast fortune as an investor, is a major funder of liberal and pro-democratic causes. He has long been the target of
antisemitic
attacks from the rightwing fringes, but such conspiracy mongering has been increasingly adopted by mainstream Republicans.

Comment: Repeat...


The anti-Soros drumbeat reached something of a fever pitch in the weeks before the midterm elections, as conservative politicians and news outlets advanced
baseless allegations that he was behind a caravan of Central American migrants travelling through Mexico
. Soros was one of the targets of a rash of mail bombs that were sent to Democratic politicians in October.
Joe Gabriel Simonson, a reporter for the rightwing news site the Daily Caller, tweeted Wednesday that he had been urged to include "bring up Soros/'Soros tactics'" in an article about Facebook earlier this year.
"The PR guy did keep bringing up Soros," Simonson wrote. "This was like 6 months ago too so it was even odder."
Robinson, whose organization has run online campaigns criticizing Facebook over racial discrimination in housing ads, privacy and surveillance, racist hate speech, and other issues, said he was deeply troubled by the report.
"This narrative has really dangerous
antisemitic
undertones about Jewish people controlling the world," Robinson told the
Guardian
by phone. "It's also deeply anti-black - the idea that our strategies, our ideas, our vision are somehow built off some puppet master ... That Facebook would employ a rightwing firm to say that is deeply troubling."

Comment: Repeat...


Color of Change is a not-for-profit civil rights organization. It receives some money from Soros, Robinson said, in addition to many other funders, including Facebook co-founder Dustin Moskovitz's foundation, the Open Philanthropy Project. Robinson also said that over the past year, he has been asked numerous times by journalists about funding from Soros.
"No one at the end of a call says, 'Are you funded by the Ford Foundation?'," Robinson said.
Facebook did not respond to a request for comment.
Soros has been openly critical of Facebook and Google.
"The internet monopolies have neither the will nor the inclination to protect society against the consequences of their actions,"
he said in a speech at the World Economic Forum in Davos in January. "That turns them into a menace and it falls to the regulatory authorities to protect society against them."

Comment: Hmm, Soros is right about that!