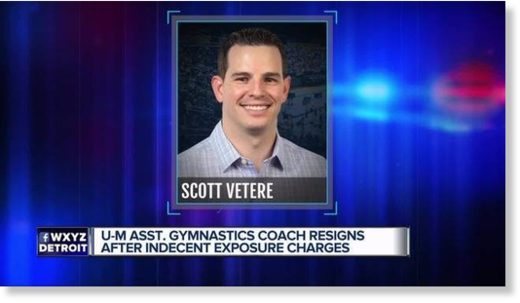 University of Michigan assistant gymnastics coach Scott Vetere has resigned after being arrested for allegedly having public sex in a car with an 18-year-old team member near the university's training facilities.
The incident happened earlier in October, although reports of Vetere's arrest only emerged on Wednesday.
Police had approached the vehicle at around 9am on October 8 and found Vetere, 39, and the female student naked and engaged in sexual activity in the back seat.
The
married father-of-three
and the teenager were both arrested for misdemeanor disorderly conduct and indecent or obscene conduct in public.
A Michigan athletic department spokesperson confirmed that Vetere had been suspended soon after the incident, and that he had subsequently resigned during the disciplinary process.
The coach is himself a Michigan graduate and was a decorated member of the university's gymnastics team, sharing the Male Athlete of the Year award in 2000.
Vetere coached the Wolverines' male team at the university between 2005 and 2009, and returned in 2017 to work with the female team in an assistant role. He is also reported to have worked with the US women's national team.
Michigan official Kurt Svoboda
said
the university was "confident" that it was an isolated incident, and offered assurances that it conducts thorough background searches for all employees.
Vetere has been arraigned and is due in court on November 14 to face the charges. The female student is reportedly scheduled to be arraigned on November 5. The pair could face up to 90 days in jail and a $500 fine under local city code.