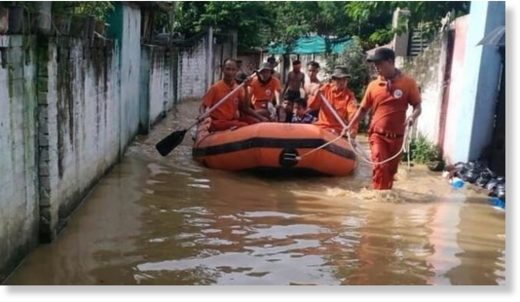 NDRF teams have landed today in Nagaland for rescue and relief operations in the state, which has seen the worst floods in its history.
Twelve people have died and 3,000 have been displaced in incessant rain, which has caused landslides and floods in around 400 villages of Nagaland in the past one month.
The flooding has primarily been caused because of rain in upper reaches of Nagaland leading to water level rising at the Doyang Hydro electric project in Wokha District. The release of additional water from the dam twice has resulted in flooding in the downstream areas including Golaghat district of Assam.
Kiphere, a district on the border with Myanmar is the worst affected. Chief Minister Neiphiu Rio visited this district on August 28, a day after he had appealed for help and shared bank details of the CM Relief Fund on Twitter.
The government, however, claims that the situation is under control and floodwaters have receded but state needed major repairs and rebuilding work. Major roads, including NH-29, connecting Dimapur and Kohima, have been cut off.
About 360 locations of roads have been totally cut-off sending the state into an emergency situation
Union Home Minister Rajnath Singh spoke to Chief Minister Rio on August 30 regarding the damage caused by floods and landslides. In an interim report to the Centre, the state government demanded Rs 219 crore as immediate help. According to Nagaland government officials, the requirement for assistance is likely to go up to Rs 400 crore even as the damage is pegged at around Rs 800 crore as of now.
The floods in the hilly state is significant as Nagaland, along with other Northeastern states has seen a deficit rainfall this year. According to figures from the Regional Metrological Centre, Guwahati, up to August 29, Nagaland has seen a 26 per cent deficit this season.
However, the intensity of rain, going up to

100 mm in one hour

at times has caused the damage in the hill state.