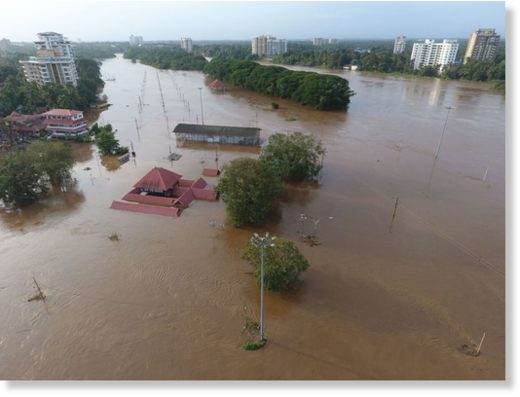 The state's chief minister says there is "unprecedented flood havoc" in Kerala - a magnet for millions of tourists each year.
Sixty-seven people have been killed over the past week in the worst floods to hit India's Kerala state in nearly a century.
At least 25 died on Wednesday, with the disaster management authority saying that the number is likely to increase.
Tourists, who flock to the southern state for its beaches, scenic landscapes and tea plantations, have been warned to stay away from many popular areas because of flooding.
The Sabarimala hill shrine is threatened by rising river levels in nearby Pampa River - the Hindu pilgrimage centre attracts around 45 million people a year.
Kochi city airport will also stay closed until Saturday afternoon.
Twelve of 14 districts in Kerala are struggling with flooding after authorities were forced to open the gates to free excess water from 35 dangerously full reservoirs.

"Presently, 35 reservoirs in the state are releasing water. Many districts in the state are facing floods," tweeted Kerala's chief minister Pinarayi Vijayan, who said the state was experiencing "

unprecedented flood havoc"

.
A "red alert" has been put out by forecasters, who say heavy to very heavy rain is forecast in Kerala until Saturday.
Hundreds of houses have been damaged by floods, rain and landslides.
About 50,000 people have been displaced and crops also damaged in an area known for its coffee and spices.
More than 300 relief camps have been set up to help people left homeless.
Two hundred people have been killed in the state since May, according to Sekhar Lukose Kuriakose from the disaster management authority.
Hundreds die annually during the June to September monsoon season
but the devastation this year is said to be the worst since 1924.