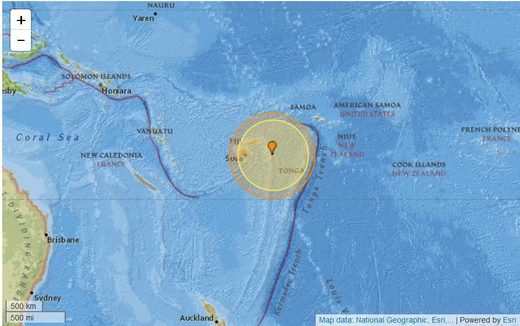 A powerful magnitude 7.9 quake has struck in the Pacific Ocean, 291 km (180 miles) from Ndoi island of Fiji, according to the United States Geological Survey (USGS). The quake hit at a depth of 570km (354 miles), too deep to cause a tsunami. Its power approaches the strongest deep-focus (over 300km deep) quake on record, the magnitude 8.3 Okhotsk Sea quake of 2013.
Update:
From
HawaiiNewsNow
:
There is no tsunami threat to Hawaii after a strong earthquake in the South Pacific basin.
Officials at the National Tsunami Warning Center said the quake struck the Fiji Islands region Saturday afternoon, but no Pacific-wide tsunami threat was generated.
It initially registered as a 7.9-magnitude earthquake, but since the original alert, the USGS has upgraded the magnitude of the earthquake to an 8.2.