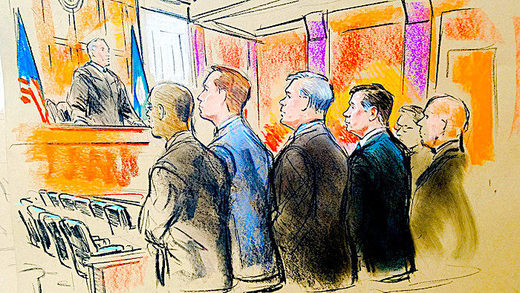 As a Virginia jury continues deliberations in the tax evasion trial of former Trump campaign manager Paul Manafort, the judge said he received threats over the case and
refused media demands to reveal the jurors' identities.
A motion by AP, BuzzFeed, CNN, NBC, the
New York Times
, Politico and the
Washington Post
asked US District Judge T.S. Ellis III to reveal the names and addresses of the Manafort jurors, as well as the transcripts of sidebar conversations with the attorneys in the case, which remain sealed.
"I don't feel right if I release their names," the judge said, explaining that he has received threats over the case, and is now being guarded by US Marshals. "The Marshals go where I go."
Ellis explained that
he intends to unseal most of the transcripts after the trial, but added that some of them will remain under seal so as not to interfere with Special Counsel Robert Mueller's ongoing investigation
into claims of President Donald Trump's "collusion" with Russia during the 2016 US presidential election.
Mueller's prosecutors charged Manafort with failing to register as a foreign agent over his lobbying in Ukraine and evading US taxes by mis-reporting foreign income. The charges have nothing to do with Manafort's conduct as Trump's campaign manager between March and August 2016.
The prosecution's key witness was Manafort's former business partner Rick Gates, who admitted to defrauding Manafort.
The defense called no witnesses, and did not put Manafort on the stand. The jury began deliberating on Thursday, after the closing arguments. Among the questions they have since sent to the judge was a request to define "reasonable doubt." The jury had not reached the verdict by the end of the day Friday, and will reconvene Monday.
In the hyper-partisan atmosphere of US politics, the prolonged deliberations have caused Trump critics to fear that the jury might acquit Manafort - which they see as a blow to Mueller and the "Russiagate" probe - while Trump supporters have interpreted the media motion as an attempt to pressure the jury into a guilty verdict.