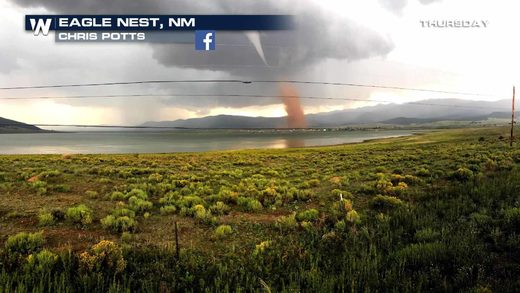 Yes, a tornado touched down not only right in the middle of the
Rocky Mountains
, but also in New Mexico, both locales not known for their twisters.
There's a popular weather myth that tornadoes don't like mountainous terrain, but the reality is that they can form just about anywhere. It's just that ideal conditions for the
often terrifying whirlwinds
tend to occur more often over the flatlands of tornado alley in the middle of the continent.
As if to prove that they'll go where they please, a swirling spout reached down from storm clouds over northern New Mexico's Moreno Valley Thursday, ripping up the ground near the village of Eagle Nest,
which sits at over 8,000 feet in elevation
and is surrounded by the high peaks of the Sangre de Cristo range.
Dramatic video captured near Eagle Nest Lake State Park showed the short-lived tornado wreaking havoc on the ground; multiple explosions suggest it may have torn up some parts of the area's electrical grid.
Weather spotters on the scene reported golf-ball sized hail, downed power lines and at least one overturned mobile home. There's been no reported injuries. The National Weather Service says
it may be the first tornado in the area in several decades.