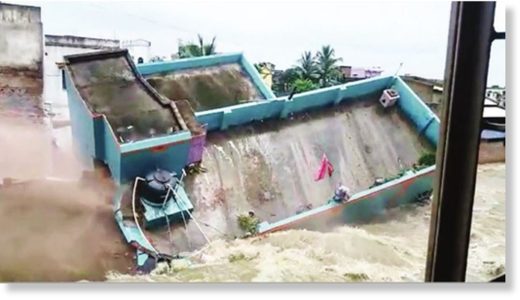 One person died and around 2500 were affected in Bankura as incessant rainfall led to a flood-like situation.
Fifty two houses were completely damaged and 663 partly damaged, according to official reports.
Seventy year old Gunomoy Bhandari of Nagardanga village in Mejia block drowned in the flood water after his locality was submerged. His son, Ranjit Bhandari, said: "My father was trapped in a waterlogged area and he got drowned while he was trying to cross a stream that swelled up."
The district administration has set up two relief camps under Bankura block-II wherein 610 people have been accommodated.
Besides the Bankura district town, 13 villages in Bankura-II, Megia and Gangajalghanti blocks were hit due to the flood-like situation.
Bankura recorded 224 mm rainfall in the last 24 hours,
which caused the Gandheswari and Shali rivers to swell up and water gushed into the localities since the small hours when people couldn't anticipate about the sudden deluge.
While Gandheswari devastated the district town and Bankura block-II villages, Shali river caused severe inundation in Gangajalghanti and Mejia block villages. At Satighat point in Bankura town, a bridge across the Gandheswari river connecting BankuraDurgapur road link was washed away in the early morning hours.
Another small bridge across Shali river was damaged at Gangajalghanti.
Apart from the district town, Junbedia locality in Bankura block-II, adjacent to the town, suffered badly and a two storied concrete residential structure owned by Sudhansu Mukherjee, a decorator company owner, collapsed leaving the local residents panic struck. Mukherjee, his wife and his daughter though had vacated the room, the wife and the daughter of his tenant were still inside a room on the ground floor of the house and were rescued by Civil Defence personnel later.
The Bankura Municipality was heavily hit due to the sudden deluge and eight of its wards (4, 7, 9, 11, 15, 18, 20, 22) were washed away as water inundated major parts of the localities. Ramakrishnapally and Indraprastha colony in the town went under water. The civic body failed to negotiate with the crisis due to its limited resources and sent an SOS to the district administration.
The district authority expedited relief and rescue operations with no delay and food and medical assistance were also sent to the affected areas.
The Public Health Engineering department has been told to provide at least 1 lakh drinking water pouches. Sixteen medical teams assigned by the chief medical officer of Bankura, split in different groups, have been deployed across the floodhit areas.