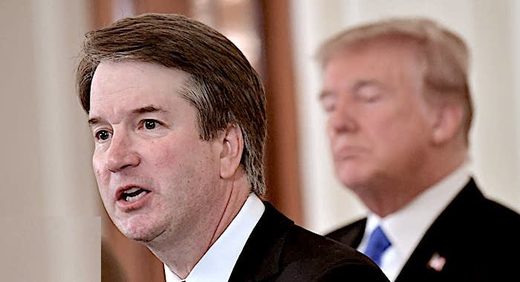 Many Senate Democrats have refused to hold the traditional meet and greet events with Supreme Court nominee Judge Kavanaugh,
arguing they have not received all of the millions of pages of documentation
related to Kavanaugh's time working in the Bush White House.
Their shut out could ultimately delay the confirmation process and has prompted a threat from Senate Majority Leader Mitch McConnell, R-Ky., to keep the Senate in session until Election Day if that time is needed to confirm Kavanaugh.
Republicans want to confirm Kavanaugh by Oct. 1,
which is the start of the next Supreme Court term.
To show they mean business, Republican leaders have said they won't adjourn for all-important campaigning this fall if Kavanaugh isn't on track to making that deadline.
"We will stay here until the bitter end, up to the elections on Nov. 6," Senate Majority Whip John Cornyn, R-Texas, said Monday. "That would be the consequence of dragging this out for no good reason. But we will vote on his nomination before the midterm election."
Kavanaugh has been making the rounds in the Senate nearly every day since Trump nominated him on July 9. He's sat down with nearly two dozen senators, but all were Republicans.
Democrats told the Washington Examiner they are holding back on meeting with Kavanaugh, a D.C. Circuit Court judge who if confirmed would replace Justice Anthony Kennedy.
Kavanaugh has requested meetings with many Democrats, GOP leaders said, but nearly all have said they have not been able to fit him into their schedules.
One exception is Sen. Joe Manchin
, D-W.Va., who is running for re-election in a deep red state.
He is among three red-state Democrats who voted for Justice Neil Gorsuch last year and are likely to back Kavanaugh.
An aide to Sen. Heidi Heitkamp, D-N.D., told the Washington Examiner that she, too, is trying to schedule a meeting with Kavanaugh.
But other Democrats argue that before agreeing to meet with Kavanaugh, they need to examine Kavanaugh's long paper trail in order to try to determine how he'll decide on key cases that might make it before the high court, including the legality of abortion and Obamacare.
"So we need to review the record," said Senate Minority Leader Chuck Schumer, D-N.Y. "Judge Kavanaugh's written history, where the best clues to his jurisprudence may lie."
Democrats argue Republicans made the same demands of then-Supreme Court nominee Elena Kagan, who served as former President Barack Obama's solicitor general before he chose her to serve on the high court in 2010.
"Before Democrats commit to meeting with the nominee, we want to see a real commitment and progress towards providing the same information and documents to the Senate that Kagan did," a senior aide for Senate Democrats told the Washington Examiner
.
Democrats said they want to see more progress in obtaining the documents related to Kavanaugh's time in the Bush White House.
Democrats told the Washington Examiner the GOP is "not indicating a willingness" to ensure they are allowed the same access to documents as Republicans were provided when Kagan went through the confirmation process.
Democrats lack the numbers to block Kavanaugh's confirmation,
thanks in part to the election map. Like Manchin and Heitkamp, Sen. Joe Donnelly, D-Ind., faces a tough race in a state that Trump won by double digits.
The number of endangered Democrats will make it very difficult for them to vote against Kavanaugh just weeks before Election Day.
Democrats do have the power to delay the process somewhat, by demanding more information about Kavanaugh. Cornyn said Monday there could be millions of pages of documents associated with Kavanaugh's time serving as as staff secretary to former President George W. Bush and that
none would be relevant to his nomination to the Supreme Court.
"Some of these demands are being made in order to drag their feet and as a pretext to delay Judge Kavanaugh's nomination," Cornyn said.
Kavanaugh also served as associate White House counsel for Bush.
Earlier Monday, White House press secretary Sarah Sanders told reporters
Schumer is "encouraging his members to not even meet with the judge."
The Senate will remain in session through most of August, which will provide more time to provide documents and schedule meetings if Democrats change their minds.
Judiciary Committee Chairman Chuck Grassley, R-Iowa, said he would likely hold Kavanaugh's confirmation hearing in early September.