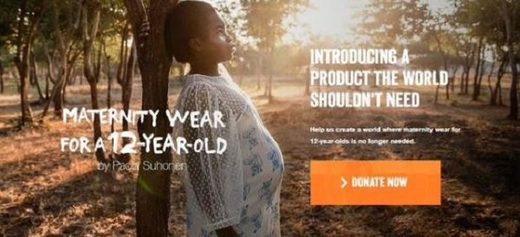 The apology over a maternity clothing ad featuring a pre-teen African girl followed criticism and pressure from fellow humanitarian organizations over the "erotizing" and "sexualizing" of the child model.
Plan International Finland and its parent organization, Plan International Global have issued an
apology
over a high-profile ad campaign
involving a pregnant 12 year-old Zambian girl posing in a line of maternity clothing that was the brainchild of Finnish designer Paola Suhonen.
Despite winning accolades and awards for creative design, the campaign raised the ire fellow human rights activists, including Zimbabwe-born gender studies researcher Dr. Faith Mkwesha of the Turku Academy and the Sahwira International NGO, who condemned Plan International Finland
for "erotizing and sexualizing" the child model, saying she was shocked by the campaign.
Although Plan International Finland initially refused to issue an apology, after several meeting with Dr. Mkwesha and other representatives of Sahwira International, the Finnish human rights activists backed down and apologized.
"We acknowledge the concerns raised over the design and execution of the campaign and are sorry that some aspects of the campaign have caused offense," Plan International Finland said in a statement on its website.
​Following the apology, Plan International Finland removed all references and material related to the campaign from its website. The Finnish NGO also pledged to stop accepting any future awards for the ads, promising to incorporate feedback on the ad into its future work.
Dr. Mkwesha said she was "relieved and happy" over the apology.
"This is good for black African girls and children who have been represented in this way by Finnish organizations for the purpose of raising money," Mkwesha told Finnish national broadcaster
Yle
, describing the outcome as a major accomplishment for her NGO.
​Mkwesha also voiced hope that the case would serve as an example for other organizations lest they should use black children in this way without taking into account their dignity.
Since Plan International Finland pledged a far-reaching partnership in discussing future campaigns, Dr. Mkwesha and her organization, Sahwira International offered their help and expertise to ensure broad representation and raise awareness on the issues of racism, colonialism, prejudice and stereotypes.
Plan International is an independent development and humanitarian organization which works in 71 countries across the world, in Africa, the Americas, and Asia to advance children's rights and equality for girls.
Sahwira International is, by Mkwesha's admission, a "small organization with no money, no resources and no permanent staff."