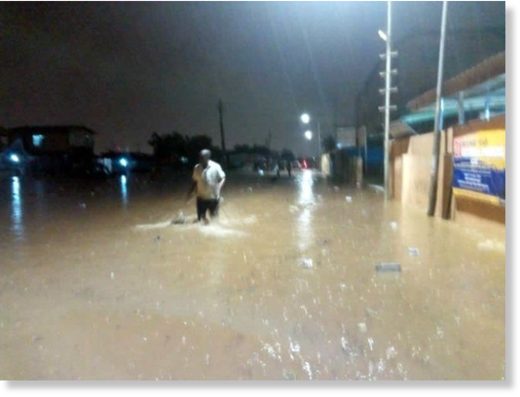 Devastating floods have hit areas around Accra, the capital city of Ghana, after heavy rainfall from 18 June, 2018.
The Minister for the Interior, Mr Ambrose Dery, toured of some flood areas in the Accra Metropolis, including Odawna, Dome, Kissieman, Kwabenya, Madina, and communities in Tema. He called on management of National Disaster Management Organisation (NADMO) to carry out a needs assessment of the flood situation.
He said government, together with other stakeholders, would take immediate steps and strategies to see how best to resolve the situation and address the challenges.
Images on Social Media showed streets in the Greater Accra Region under 1 metre of water, leaving cars submerged and buildings damaged.
Many people were trapped in their homes or vehicles and personnel from NADMO, police and Ghana Armed Forces carried out flood rescues. Local media say that two people have died and 4 are still missing.
The Ghana Meteorological Agency has warned of particularly heavy rainfall this year, especially in the Southern sector. According to public broadcaster Ghana Broadcasting Corporation, the Director of Research at the Meteorological Agency, Charles Kweku York, said this year's rains would be greater than what was recorded in 2017.