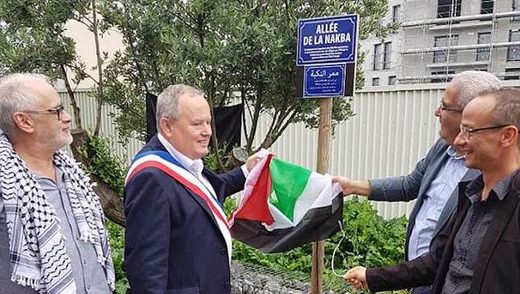 A
Paris
mayor has been warned he will be 'blown up' after naming a street in honour of thousands of
Palestinians
forced out of their homes by the creation of
Israel
.
Dominique Lesparre, 71, has also been hounded by assailants wearing black face masks who vandalised the new road sign within hours of it being unveiled on Tuesday.
The thoroughfare in Bezons, in the north west suburbs of the French capital, is now called Nakba Alley.
It commemorates the 'Catastrophe' (Nakba in Arabic) of 1948, when some 800,000 Palestinians were expelled from their land because of the foundation of the Jewish State.
Amid scenes of immense violence, many of the Palestinians' towns and villages were razed to the ground, and they were forced into refugee camps which exist to this day.
On Monday, the mayor posted on Facebook: 'Very proud tonight [June 11] to inaugurate a Nakba alley ("the disaster"). 'I have an emotional thought for the Palestinians who are forced to fight for the recognition of their state within the 1948 borders.'
Referring to Israel's first prime minister, plaques placed around Nakba Alley read: 'In memory of the expulsion of 800,000 Palestinians and the destruction of 532 villages in 1948 by the war criminal David Ben Gurion for the creation of the state of Israel.'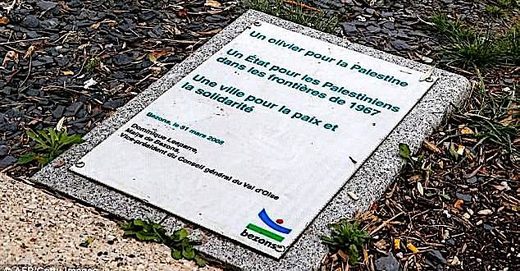 This sparked fury among Israel supporters in Paris, and by this morning, the plaques were covered in graffiti, and the road sign blacked out.
All were then removed by local government officials who said they could 'seriously disrupt public order'.
Mr Lesparre and his colleagues at Bezons town hall said they had received 'a multitude of threatening calls'.
The mayor was called a 'Nazi Communist' and told 'we will kill you', and 'we will blow up the mayor'.
Opponents in black face masks and on mopeds were also seen damaging the signs, and around the town hall.
Reports have now been filed to the police,
who suspect extremist pro-Israel groups for the threats.
One, the Jewish Defence League, has been behind a number of violent attacks around Paris in recent years, with key members ending up in court for their crimes.
As regards to the current controversy,
CRIF - France's main umbrella group for Jewish organisations - released a statement saying the road signs 'encourage the current acts of anti-Semitic violence by trying to give them historic justification'.
Emmanuel Nahshon, spokesman for the Israeli foreign ministry, meanwhile said that Bezon was supporting Hamas, the group that runs Gaza, the Palestinian strip of land where dozens of protestors have been shot dead by Israeli snipers in recent days.
Referring to Bezons, Mr Nahshon posted on Twitter: 'The first Hamas town hall in France'.
Aliza Bin-Noun, Israel's ambassador to Paris, said the signs were 'an incitement to hatred' that supported 'Palestinian terrorism'.