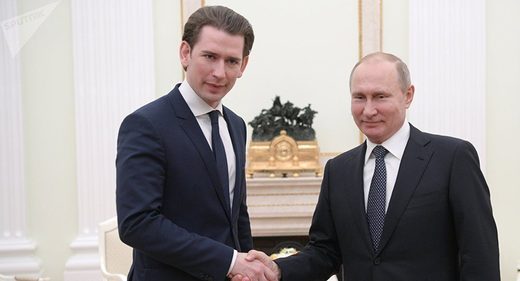 Many Austrian residents want to restore good relations between Russia and Europe, and they would vote in favor of removing sanctions, Austrian journalist and writer Hannes Hofbauer believes.
Hostilities in EU-Russia relations are not beneficial for either party, and Austrian citizens understand that, Hannes Hofbauer said during a presentation of his book, titled "Russia: image of the enemy. History of demonization."
"Most people in Austria want to have better relations with Russia. If there was a referendum in Austria now, the majority would vote for the withdrawal of sanctions," the writer said.
According to Hofbauer, there is a big paradox in this regard, as political elites criticize Russia, but ordinary citizens don't.
"Mass media,
many politicians are critical of Russia, even hostile to it, while
large and medium-sized businesses as well as ordinary citizens do not understand this position
at all and are inclined to have good relations with Russia,"
Hofbauer said.
Conflict is Avoidable
Hofbauer doesn't believe that hostile relations between Russia and the West are inevitable and thinks that
they are a result of interests of various political groups.
"There have been such situations before - the boycott of the Olympic Games, then the US president did not come, the German chancellor did not come, the laws on sexual minorities were perceived negatively," Hofbauer explained.
According to the author, the current situation in Europe is very "dangerous."
"It is related to the fact that
the West has a completely wrong perception of the crisis in Ukraine
, namely that Russia is responsible for everything that happens in Ukraine, but
without any evidence
," he said.
Hofbauer also explained that the image of Russia as an "enemy" has been formed over several centuries and that the Ukrainian crisis is just the most recent turning point. He also added that the key role in this conflict was played by the European Union.
"The EU, particularly Poland and Sweden, and to some extent Germany, bear the blame, especially when the Americans took control over the Maidan events.
The driving force in the Ukrainian crisis was, in my opinion, the EU, and the US took on spiritual leadership in late February," Hofbauer concluded.
A number of Austrian officials, including Kurz, have repeatedly called for a reduction of tensions between Moscow and the Western countries, stressing the country's readiness to act as a mediator between the East and the West.