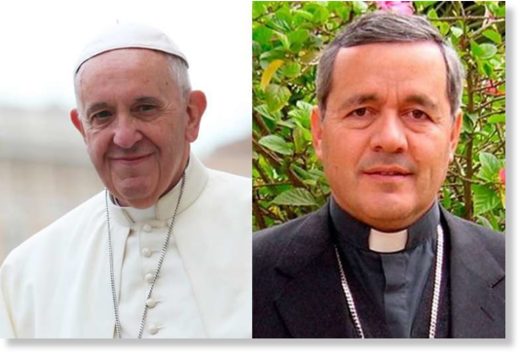 Pope Francis has accepted the resignations of a Chilean bishop he robustly defended earlier this year despite claims of a cover-up of clerical sexual abuse, a move that later forced the pontiff into making a public apology.
In his continuing efforts to show he has grasped the extent of the Catholic church's sexual abuse scandal, and intends to deal with those embroiled in it as perpetrators or colluders, Francis accepted the resignations on Monday of Juan Barros, as well as his fellow bishops Gonzalo Duarte and Cristián Caro.
They were among 34 Chilean bishops who offered to resign last month after Francis said the country's religious hierarchy was collectively responsible for "grave defects" in handling sexual abuse cases and the church's resulting loss of credibility.
Juan Carlos Cruz, a survivor who has been a vocal critic of Barros and repeatedly called on the Vatican to take action, said: "A new day has begun in Chile's Catholic church.
"I'm thrilled for all those who have fought to see this day. The band of delinquent bishops ... begins to disintegrate today."
On Monday, a Vatican statement said Francis had accepted the resignations of the bishops and appointed temporary replacements.
In January, the pope caused an outcry when he denounced sexual abuse survivors on a visit to Chile, saying claims Barros was complicit in a cover-up were a "calumny".
Francis appointed Barros as bishop of Osorno in 2015 despite objections from local Catholics, who claimed he had kept secret the sexual crimes of Father Fernando Karadima in the 1980s and 90s. Barros denied the charge.
At the end of his visit, the pope said: "The day they bring me proof against Bishop Barros, I'll speak. There is not one shred of proof against him. It's all calumny. Is that clear?"
The comments were seen as highly damaging to Francis's reputation, compounding a widespread view that he had failed to take a robust stance on the issue of clerical sexual abuse since becoming pope.
Days later, he sent two experts in sexual crime from the Vatican to Chile to investigate the claims regarding Barros.
In April, Francis admitted he had made "grave errors" of judgment and invited abuse victims to Rome to beg their forgiveness.
He had a private meeting with Cruz and two other survivors over several days at the Vatican. According to Cruz, Francis said: "I was part of the problem. I caused this, and I apologise to you."
The pope last month ordered all Chile's bishops to attend an emergency summit in Rome to hear the findings of the experts' 2,300-page report.
It exposed evidence that the Catholic hierarchy in Chile systematically covered up and downplayed cases of abuse, destroyed evidence of sexual crimes, discredited accusers and showed "grave negligence" by not protecting children from paedophile priests.
Later, he became the first pope to publicly denounce a "culture of abuse and cover-up" in the Catholic church, saying he was ashamed victims were not listened to.
The sexual crimes investigators are returning to Chile this week to begin what the Vatican has described as a "healing mission".
Juan Carlos Claret, a spokesman for a group of lay Catholics in Osorno who fiercely opposed Barros's appointment, said the bishop's resignation was the "minimum condition" to begin a dialogue with the Vatican, and called for a process to find "truth, justice and reparation" for the damage caused.
"Bishop Barros has ceased being bishop, but he hasn't stopped being a brother in the faith, and for this if he too wants to seek forgiveness, he is called to take part and assume his responsibilities," Claret said.
In 2011, the Vatican sentenced Karadima to a lifetime of penance and prayer for his sexual crimes. He has always denied the allegations.