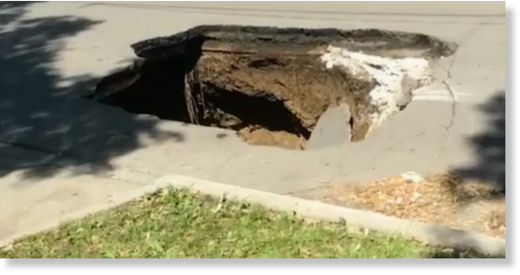 A 17-foot sinkhole that formed in a Des Moines street over the weekend has closed down a portion of that road until it can be fixed, officials said Tuesday.
The sinkhole, at Southwest 12th Street and Thornton Avenue on Des Moines' south side, was reported to the city of Des Moines on Saturday. It measures about 17 feet deep, and roughly the same across, said Des Moines Water Works Chief Operating Officer Ted Corrigan.
The hole has since been covered with a metal plate, but the 3600 block of Southwest 12th Street will remain closed except for local traffic until officials can repair the street, Corrigan said.
Those repairs will likely take about a week, he said.
The sinkhole may have been caused by a water main leak, Corrigan said, but it's also possible that the sinkhole developed first and caused the break.
"It would be very unusual for a water main leak to result in a hole that deep," he said. "We have 300 water main breaks a year and usually water comes to the surface and we find it and we fix it."
Jenna Lamparek, who moved into the neighborhood a year and a half ago, said she noticed the sinkhole shortly after it formed Saturday. The sinkhole is located next to her home.
"I was inside and I was gonna go out and to get some food and a cop was blocking my car and then I noticed that there was a crowd around the sinkhole," she said.
Crews began working that afternoon to repair it, she said, but no work was done Sunday or Monday due to the Memorial Day holiday.