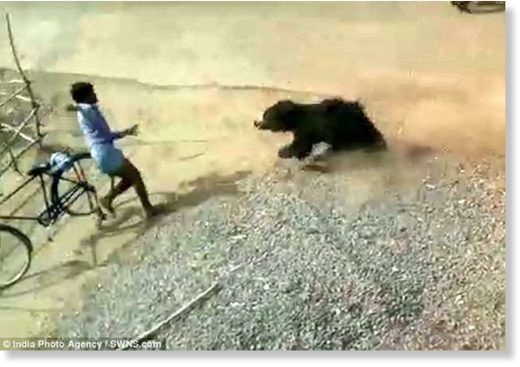 Shocking footage shows a bear which had just attacked four villagers knocking over a man as it runs to hide up a tree.
The bear wandered out of a forest and reached a village near Bhanwaradadar in Gomarda area Raigad District in Chattisgarh, in India.
At about 5am the bear attacked an elderly man - who managed to escape by jumping into water next to a dam.
The bear carried on its rampage, entering the village and attacking two youths.
Villagers began to attack the wild animal which panicked and hid in a nearby house.
Staff from the Forest Department were tipped off and the bear entered a narrow street, while villagers arranged a fishing net to try to catch it.
Crowds tried to frighten the bear and eventually it ran out of its hiding spot.
The bear then knocked down another villager and climbed a nearby tree, where it hid.
It is being monitored by officials, in the wake of a fatal attack by another wild animal recently in the area.