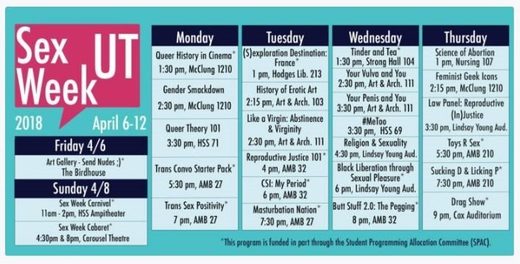 The University of Tennessee at Knoxville is hosting "Sex Week" at which students will learn about a wide variety of sexual practices and topics, including a workshop dedicated to
teaching students about "pegging," a sexual practice in which a woman anally penetrates a man with a strap-on dildo
.
The class, titled "Butt Stuff 2.0: The Pegging," is one of among
nearly 30 workshops
and events taking place over the weeklong festival.
"Pegging is a sexual practice that's slowly gaining prominence in the cultural eye," states the
event listing
. "This event will attempt to clarify how to safely and healthily engage in the act, as well as demystify any misconceptions regarding anal sex."

Comment: "Slowly gaining prominence in the cultural eye"? Now that's wishful thinking.


The event, to be hosted by sexologist Dr. Lindsey Doe, "will address many facets of the subject, ranging from different positions to try and appropriate preparation tactics."
Doe, who is also moderating the events "Toys R Sex" and "Sucking D and Licking P," hosts her own YouTube channel titled "Sexplanations," featuring videos such as "Asphyxiation" and "Cross Cultural Intimacy." She did not respond to requests for comment from The College Fix.
Other events
during the week include
an art exhibit titled "Send Nudes ;),"
a cabaret show, and a workshop about "Black Liberation through Sexual Pleasure."

Comment: The flip side of revenge porn: hedonistic exhibitionism.


Workshops such as "Masturbation Nation," "Trans Convo Starter Pack," "Tinder and Tea," and the
"Science of Abortion"
are also on the schedule.
"Masturbation Nation" will teach participants "the importance of positive body image and how to interact with your body in a physically and emotionally healthy manner," according to the listing.
Reached via email, Sex Week co-chairs Patrick Sonnenberg and Julie Edwards told The College Fix that they would answer a series of questions about the event, but neither responded to multiple emails to that effect.
Emails to the rest of the board - 17 people in total - were not returned.
University spokeswoman Tyra Haag told The Fix that "no state funds are expended for Sex Week."
"Sex Week is a series of programs organized and funded by students who opt-in for a student fee at the beginning of the year. In 2014, the university adopted the opt-in policy at the state Legislature's request," Haag said via email.
"The speech of the registered student organization is protected by the First Amendment and the Campus Free Speech Protection Act, which was signed into law in May 2017," she added.
According to
Fox News,
former Tennessee senator Mae Beavers called the university's sex week "depraved."
"To think that our young people - we send them off to school - a public university and they are exposed to all these things - I think it's ridiculous," she said.
On Facebook
, meanwhile, the Christian evangelist Franklin Graham said he was "saddened and disappointed" to learn of the university's Sex Week.
"There's nothing healthy or educational about all of this.
It's just simply promoting sin.
I think parents should take steps to see this stopped - or pull their students out," he wrote.
Comment:
It could have something to do with the fact that liberals have an absent or atrophied "sanctity" moral taste bud, as demonstrated in the following bumper sticker:

A
series of photographs
on the Sex Week website show a variety of sex-related events and skits, including a woman holding a neon-colored dildo and what appears to be two students dressed up respectively as a dueling penis/vagina.