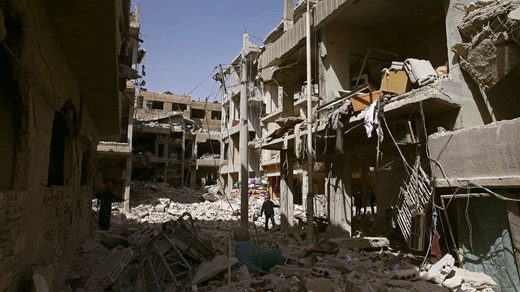 While the West, and the US in particular, rush to accuse the Syrian government of an alleged chemical attack in the rebel-held town of Douma, the UN has admitted that it is unable to "independently verify the allegations."
"We're not in a position at this point to independently verify the allegations [about the alleged chemical attack in Douma], but, obviously, any allegation of continued use of chemical weapons is extremely, extremely troubling," Stephane Dujarric, the spokesman for UN Secretary-General Antonio Guterres,
said
in a statement on Monday evening.
On Saturday,
several rebel-linked activists, including the controversial White Helmets group, accused the Syrian government of carrying out a chemical attack that allegedly affected dozens of civilians in the town of Douma in Eastern Ghouta
, some 10km from Damascus.
The West swiftly reacted to the report with pointing the finger at Damascus and Moscow. US President Donald Trump hastily
called
the alleged incident a "humanitarian disaster for no reason whatsoever," warning that a "big price" would be paid.
US envoy to the UN Nikki Haley considers the
alleged
chemical attack in the enclave as a proven fact, and blames Russian "obstructionism" and the "monster" Bashar Assad for the incident. The US envoy stressed that if the UN refuses to follow the US lead and intervene in Syria due to "Russia's obstructionism," Washington would respond alone.
On Monday, the US president also promised to decide on potential actions against Syria within 24-48 hours, adding that "nothing is off the table."
"We have a lot of options militarily, and we'll be letting you know pretty soon," Trump
said
at a meeting with military commanders.
Syria and Russia have dismissed all accusations, calling the reports merely fake news that is aimed solely at helping terrorists and justifying potential strikes against Syrian government forces. Moscow noted that it had repeatedly
warned
about false-flag attacks being prepared in recent months.
On Monday, Russia proposed to create an independent investigative mechanism in relation to the incident, promising, along with the Syrian Army, to guarantee prompt access for experts to the area. Russia's envoy to the UN Vassily Nebenzia stressed that Moscow is ready to serve as a guarantor of security for experts from the Organization for the Prohibition of Chemical Weapons (OPCW), who would inspect the site of the alleged attack. Reacting to Trump's harsh statements, Nebenzia warned the US and its allies against "fishing in murky waters" of the Middle East, causing further chaos there.