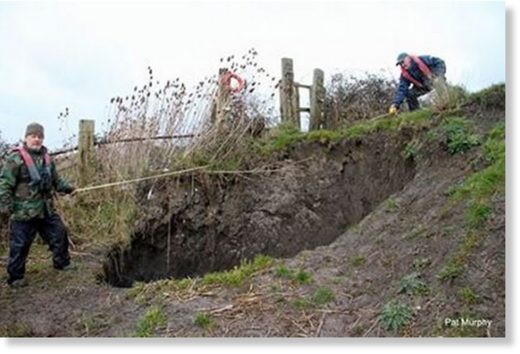 Two birdwatchers have raised the alarm about a suspected sinkhole, measuring 25ft by 16ft, near Limerick.
Pat Murphy from Limerick and his friend Tony Ryan where out on Thursday evening trying to catch a starling murmuration when Tony discovered the massive suspected 'sinkhole'.
"We were out Thursday evening to catch a starling murmuration and my friend Tony Ryan discovered it just as we were walking on the bank," Pat told
Independent
.ie. "Luckily it was still bright otherwise who knows?"
The hole is located in the Coonagh area, just on the outskirts of Limerick and Mr Ryan has contacted the city council to make them aware of it.
"I've never seen one before. We measured it and it's 25ft deep by 16ft. Scary," he said.
"It's still sinking".