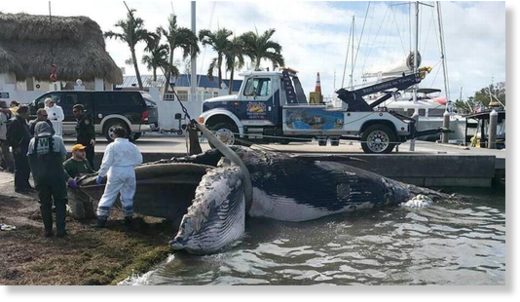 What caused the death of a 50-foot sei whale found on the bayside of Marathon Wednesday and
how it ended up in the warm waters of the Florida Keys is a mystery.
Its stop at the Marathon Yacht Club caused quite a stir. Shanna Shroeder, officer manager of the club, said it was brought to the 33rd Street boat ramp, where biologists took samples and eventually removed it from the property and reportedly disposed of it offshore.
It had "quite the smell," she said.
It didn't actually wash up at the yacht club, but was found dead on the bayside of Marathon and "secured" at the 33rd Street boat ramp next to the club until biologists with the National Oceanic and Atmospheric Administration arrived, said Lt. Andy Cox with the Florida Fish and Wildlife Conservation Commission.
According to NOAA Fisheries, sei whales can weigh up to 40,000 pounds and reach 60 feet long. They are "usually observed singly or in small groups of two to five animals, but are occasionally found in larger (30-50) loose aggregations."
They have a life span of 50 to 70 years and become sexually mature at 6 to 12 years of age, NOAA Fisheries says. They "generally mate and give birth during the winter in lower latitudes. Females breed every two to three years, with a gestation period of 11 to 13 months. Females give birth to a single calf that is about 15 feet" long and "weighs about 1,500 pounds."
With the sei whale found Wednesday, "They won't know what happened until the necropsy results are finished, but
there were no obvious signs of trauma,
" Cox said, adding he did not know its age or whether it was male or female. "Judging by its size, about 50 feet, I'm going to assume it was an adult."
NOAA biologists could not be reached by press time and Cox did not say where the whale was disposed of.
According to the World Wildlife Fund, sei whales inhabit all oceans and adjoining seas except in tropical and polar regions. According to wildlife charity group Whale and Dolphin Conservation, sei whale populations were severely depleted by the commercial whaling industry and they are classified as endangered.