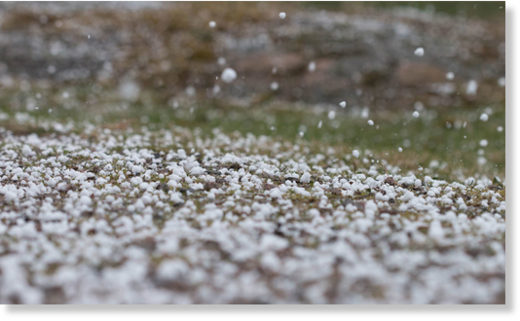 Four communities in the Krachi East Municipality have suffered from a
rare hailstorm
accompanied by strong winds that ravaged property, killing a girl and scores of domestic and wild animals.
The affected communities are Ayiramu, Katanga, Yabrae and Kparekpare, where Abena Manu, a six year old girl, was trapped by a falling wall, which killed her instantly with two others being injured in the millieu with broken bones..
The injured are recuperating at the Worawora Hospital in the Biakoye District.
The large ice pellets also killed ducks, fowls, goats, lambs as well as bush rabbits, grass-cutter and partridges.
Tree branches and electricity connections were not spared in an afternoon rain that was brief.
Mr Theodore Attah Gyamfi, the Krachi East Municipal Director of the National Disaster Management Organisation (NADMO), narrated to the Ghana News Agency that the Roman Catholic Primary, TI Ahmadiyya Primary and a teacher's quarters have had their roofs ripped off.
He said the cost of damage is estimated at 250,000 Ghana cedis, with a total of
106 houses having their roofs peeled-off
displacing 837 people.
The affected persons are temporarily staying in churches and with family members awaiting support to re-fix their dwellings.
Mr Patrick Chatty Jilemah, the Krachi East Municipal Chief Executive, whose private house was affected, said farmers returned from their farms and bushes with dead wild rabbits, guinea fowls, partridges and grass-cutters.
He said his cousin alone found 17 rabbits in the bush with several inhabitants in the disaster areas "winning the bush lottery," an indication that the size of the hailstones could be larger than normal.
He called for urgent attention as the Municipality champions and solicits for relief to alleviate the suffering of the people.
"Material support is being sought for the affected people with special appeal to NADMO, relief agencies, NGOs and philanthropists to come to our aid," he said.
Meanwhile, hailstones the size of 1.5 centimetres in diameter collected by some residents of the disaster area survived three days of storage in open pans as depicted by the picture.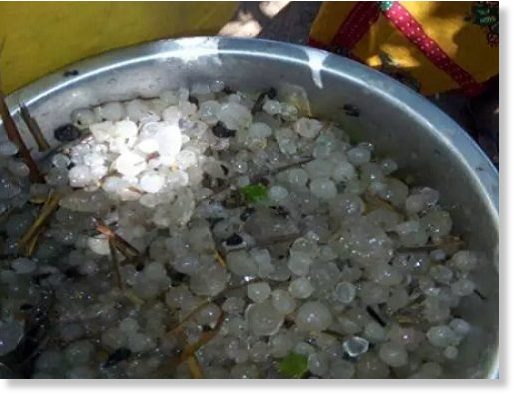 Mr Joseph Portuphy, the Deputy Director, Ghana Meteorological Agency, in a telephone interview to explain the phenomenon, said hailstorms were normal precipitations in the form of large lumps of ice formed in thunderstorm clouds.
He discounted the rare phenomenon resulting from climate change suspecting that the terminal velocity, which varies with size, when the icy lumps struck the ground, might be responsible for the killing of the animals.
Source: kasapafmonline.com