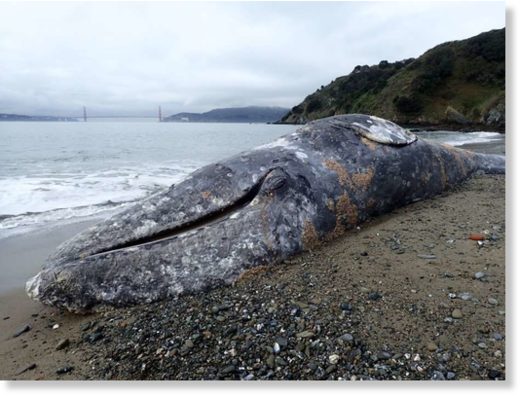 The body of a dead whale washed up on the shore of Sand Springs Beach at Angel Island State Park sometime Wednesday.
A team of eight scientists from the Marine Mammal Center, the California Academy of Sciences and UC Davis confirmed Thursday the cetacean is a 28-foot juvenile male gray whale.
The team performed a necropsy that revealed a significant lack of muscle tissue and blubber and they concludedthe whale died of severe malnutrition.
"This particular gray whale was likely in its first year of foraging on its own in the wild, and it's unknown whether this juvenile was following a food source into San Francisco Bay prior to its death," Dr. Padraig Duignan, chief research pathologist at the Marine Mammal Center said in a statement.
The carcass was first spotted early Wednesday floating in the current between Angel Island and Belvedere by the U.S. Army Corps of Engineers.
Gray whales can reach up to 45 feet in length and usually live anywhere from 55 to 70 years.
They are one of the most frequently seen whales in California and can be spotted offshore from the coast in December and January during their southern migration, and again in April and May on their northern journey.