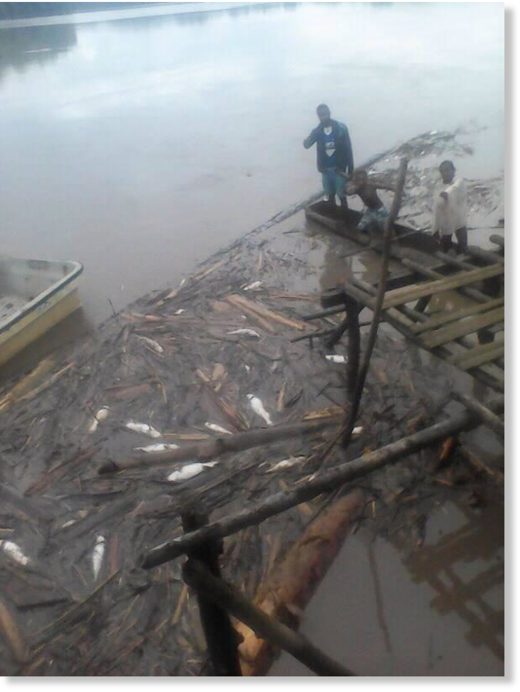 Contaminated drinking water and disrupted rivers are making the aftermath of several powerful earthquakes in Papua New Guinea even worse.
Dead fish, eels, prawns and other debris are clogging silt and mud-laden waterways, causing stench and unsafe water, while properties have also been damaged.
The situation is being described as "disastrous" by the Governor's Office in the badly-hit Gulf Province.
In a public notice, the office stated: "Given the magnitude of the earthquake and its resulting damage upstream in Southern Highlands and Hela Province,
consequential effects and changes in the rivers systems downstream is disastrous ...
"(In the province's rivers) We sighted dead fish, eels and prawns flowing down in numbers and by Sunday morning dead fish and eels have piled up with debris in river contours and along the banks giving off very bad smell".
"The water is not safe anymore for domestic purposes especially for all riparian villagers from Kaiam, Baina and down to villages in the delta like Apehava. This means food production is now limited as the river is the main source of protein and water for sago production."
An inspection team led by Governor Chris Haiveta
had identified 26 villages in the Gulf province that had been bad affected.
It also revealed the Kikori and Turama rivers were severely polluted and weren't suitable for sustaining the livelihoods of the local population.
To make matters worse, the communications network was down before the quake hit and remained so.
The lack of adequate communication was a severe it was halting relief efforts.
Half a million people have been affected by the quake, 150,000 have been left in desperate need of emergency supplies and at least 100 are believed to be dead following the
first quake that hit on September 26
, according to
The Guardian.
The first quake was a 7.5-Magnitude. That was
followed by a 6.7-Magnitude
one several days later. The latest - a
6.8-Magnitude quake - struck on March 9
at 6.39am, New Zealand time.
The Gulf Province has the second-lowest population of the Papua New Guinea provinces,
about 106,000 people.
Roads and infrastructure are reported to be minimal and in many cases, the income low.