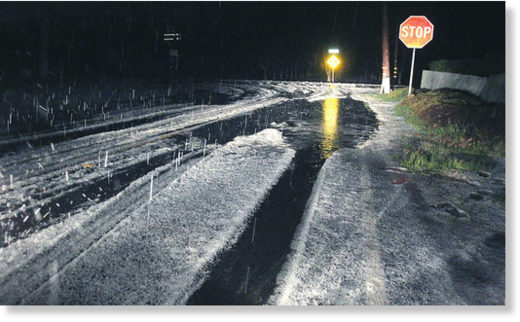 A cold winter storm swept over Tracy on Monday evening pummeling orchards and rural roads with rain and hail that triggered at least one car accident on Bird Road.
Hail blanketed roads and orchards southeast of Linne Road leaving drivers looking for traction across the icy pavement.
Rain fell sporadically throughout the day on Monday with reports of hail falling to the south in rural Tracy starting at about 5 p.m. According to a Community Collaborative Rain, Hail and Snow Network measuring station in west Tracy, .45 inches of rain dropped between 8 a.m. Monday and 8 p.m. Tuesday.
Some roads were covered by a thick coat of hail pebbles that in some areas obscured the road markings.
The hail gave way to rain and sleet making for slick roadways for evening commuters.
Almond growers south of Tracy are still assessing how much damage was caused to their crops by Monday's severe hail storm, which covered orchards and fields with two inches or more of hail.
Hail can make direct hits on blossoms on trees in impacted orchards during their pollination period.
In addition, any losses to the almond crop due to continued sub-freezing morning temperatures are still to be determined, according to Mike Petz, an almond grower and custom harvester.
"The freezing temperatures have continued over a period of days, so there will be some impact, but we don't know how much right now."
In addition to the hail storm that hit orchards south of Tracy,
hail also caused damage to almonds directly west of Stockton.
The hail did not reach as far west as Union Island, Paul Marchini of AM Farms reported.
In addition, several growers said they have received reports that almond orchards on the east side of the San Joaquin Valley were especially hard-hit by the freezing temperatures. Trees in the rolling hills of LaGrange area were "a total wipe-out," according to one report, and damage in that area was widespread at several elevations.
The best estimates so far on the impact of the hail and cold on California's total almond crop would be between a 15 to 20 percent loss, according to Tracy grower-shipper Mike Sandhu.
"That's the first estimate. The exact loss is still to be determined," he said.
Communities north to Sacramento and south to Ripon and Escalon reported heavy amounts of hail that created treacherous driving conditions on freeways and city streets.
The last time snow fell on Tracy in measurable amounts was 1976.
California Highway Patrol officers believe the icy roadway may have contributed to a pair of accidents on Bird Road where cars slid off the roadway, one striking a tree.
Monday's rain and hail made way for sunshine and wind on Tuesday, keeping the high temperature for the day in the high 50s. Partly cloudy skies returned Wednesday the rain, which began again on Thursday, was expected to continue through Saturday with nighttime temperatures plunging to just above freezing.