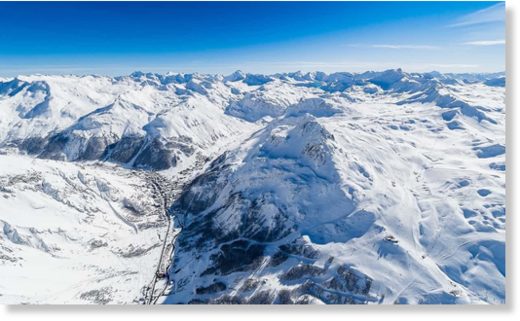 A father and his 11-year-old daughter have been killed after an avalanche swept them away in the French Alps today.
The pair were part of a larger group, but had split off and were said to be on a closed piste when the snow engulfed them.
Ski resorts close certain pistes depending on their position on the mountain and their steepness on safety grounds if there is a risk of an avalanche.
The fatal incident came just hours after a separate avalanche in Switzerland which wounded two other skiers.
The fatal avalanche happened in Val d'Isere area at an altitude of 3,000 metres, Cecile Ferrando, a spokeswoman for the tourist centre at the ski station, told BFMTV.
Meanwhile, the two skiers who were caught in an avalanche in Switzerland near the border with France have been rescued with only minor injuries, police in the canton of Valais said on Sunday.
The police initially reported that 10 people were missing but revised that down to two, saying a member of the group who called in the accident was unaware most of the group were safe.
A police spokesman also said the group were on touring skis, which can be used to climb and descend slopes, not hiking.
The avalanche took place at an altitude of 2,500 metres in an area called the Col de Fenestral.
Valais is a popular destination for skiers due to its huge mountains and slopes extending as high as 3,899 metres.