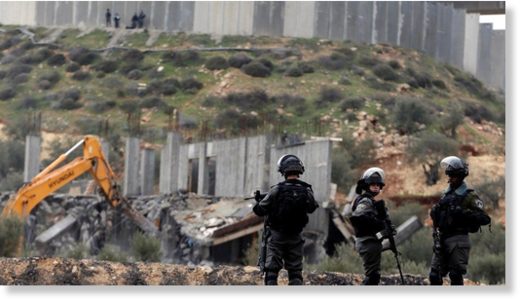 The White House has denied it is helping Israel plan the annexation of the West Bank. The denial comes after Israeli Prime Minister Benjamin Netanyahu reportedly suggested such talks had taken place.
The move to ring fence lands in the West Bank - where the Palestinians hope to build an independent state - could potentially inflame the already fraught situation.
However, the White House dismissed the idea that Washington is working with Israel on an annexation plan as
"false."
"On the subject of applying sovereignty, I can say that I have been talking to the Americans about it for some time,"
Netanyahu was recently quoted as saying by a spokesman of the Likud party, Reuters reports.
However, it's now being suggested that Netanyahu may have been trying to appease certain sections of his own party, with a senior Israeli official telling Reuters that the prime minister has not presented any plans to the US.
While it is unclear which settlements would come under Israeli law and control, Netanyahu reportedly said in a private meeting that planning alongside the US is important because
"the connection with them is a strategic asset for the State of Israel and settlements."
White House spokesperson, Josh Raffel later slapped down such suggestions.
"Reports that the United States discussed with Israel an annexation plan for the West Bank are false,"
he said.
"The United States and Israel have never discussed such a proposal, and the president's focus remains squarely on his Israeli-Palestinian peace initiative."
Last Sunday, the Israeli prime minister
reportedly
pushed back legislation designed to apply Israeli laws to West Bank settlements.
According to the
Jerusalem
Post
, a vote on the sovereignty bill was postponed due to concerns over security in Israel.
"Following the security events, and in order to allow continued diplomatic talks on the matter, there was a consensus in the meeting of coalition party leaders to postpone bringing up the sovereignty bill,"
a government spokesperson said.