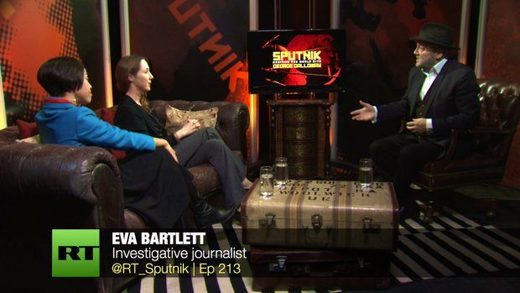 While in the UK giving talks on Syria (and the DPRK/North Korea) last week, I was invited to speak on 'Sputnik Orbiting the World', the program hosted by George & Gayatri Galloway.
The program
description
:
Speaking truth to power ought to be the duty of journalism but it is not. Speaking the power's "truth" is the way to get and keep the gig in today's media - and if you do so, you'll be richly rewarded with money and flattery.

One of our frequent guests, Patrick Cockburn, had a great journalist father, Claud Cockburn, who said that the relationship of the journalist to power should be that of the dog to the lamp-post. Nothing is true, he'd say, until it has been officially denied. Fortunately, every now and then a journalist emerges who goes where few dare, who speaks what few will speak, without fear or favor. One such journalist is Eva Bartlett, so we invited her into the Sputnik studio to speak truth to power.
Related Links:
-
How I started
:
About Me
-
Writings and videos from/on Syria
,
In Gaza
-
A Personal Reply to the Fact-Challenged Smears of Terrorist-Whitewashing Channel 4, Snopes and La Presse
, Jan 20, 2018,
In Gaza
, *republished at:
The Indicter
, (in
Spanish
)
-
Exploitation of Bana al-Abed: Parents use child to whitewash terrorists in Aleppo
, Jul 24, 2017,
RT.com
-
Absurdities of Syrian war propaganda
, Nov 2, 2017,
RT.com
-
The REAL Syria Civil Defence, Saving Real Syrians, Not Oscar Winning White Helmets, Saving Al Qaeda, Vanessa Beeley,
Apr 2, 2017,
21st Century Wire
-
Aleppo: How US & Saudi-Backed Rebels Target 'Every Syrian', Nov 29, 2016,
MintPress News
[Excerpt: On the afternoon of Nov. 3, after meeting with Dr. Mohammed Batikh, director of Al-Razi Hospital, the victims of terror attacks which had begun a few hours prior began to arrive one after another, maimed and critically injured. The vehicle bombings and bombardment of Grad missiles, among other attacks, left 18 people dead and more than 200 injured, according to Dr. Zaher Hajo, the head of forensic medicine at Al-Razi Hospital. ...According to the hospital's head forensic medicine, Dr. Hajo, in the last five years, 10,750 civilians have been killed in Aleppo, 40 percent of whom were women and children. In the past year alone, 328 children have been killed by terrorist shelling in Aleppo, and 45 children were killed by terrorist snipers.]
-
US-Backed Terrorism in Syria: A First-Hand Account of the Use of Mortars Against Civilians
, Sep 12, 2014,
Global Research
-
Western corporate media 'disappears' over 1.5 million Syrians and 4,000 doctors (Aleppo)
, Aug 14, 2016,
SOTT.net
-
Syria Dispatch: Most Syrians Support Assad, Reject Phony Foreign 'Revolution'
, Mar 7, 2016,
SOTT.net
-
Syrians Flock to Vote in Lebanon... But Not in The West,
May 30, 2014,
Inter Press Services
-
Liberated Homs Residents Challenge Notion of "Revolution"
, Jul 8, 2014,
Inter Press Services
-
"Freedom": Homs resident speaks of the early days of the "crisis"
(with
video
), Jun 24, 2014,
In Gaza
-
Homs: "We wanted to protect our house"
, Jun 13, 2014,
In Gaza
-
Morning conversation with a Sunni Damascene woman
, Apr 19, 2014,
In Gaza
[Excerpt: One of my relatives lived in Hama. The "rebels" would knock on the doors of homes there and force them to participate in demonstrations against the "regime." My relative is an old woman, she said "I don't want to participate. My legs are weak, I'm an old woman" but the "rebels" said she had to join the demonstration. They would threaten her, "we'll kill your son, your husband." They fled Hama soon after, to Lebanon.

Our former housekeeper was from Zamalka, near Jobar (one area where the "rebels" are, and from where they fire mortar shells towards Damascus). Just before the "rebels" took over Zamalka, she fled, but her husband and 30 year old son stayed, to protect their home. Two months after fleeing, she saw on the news that the "rebels" had killed her husband and son by cutting their heads off.

My cousin had a car accident, two of his children died. This was on a Friday. One child died immediately, the second the following day. While they were praying in the mosque, "rebels" came and filmed the caskets and produced a video with the title, "Damascus prayer on the field of freedom of the child martyr Abdul Salam Musa". My aunt in Germany saw the video and commented "This is a lie, these kids are my relatives and they died in a car accident." Here is the video she referred to. As we sit and watch it, she points out her relatives.]
-
Syrians from Hassaka Speak of the Peaceful Life They Knew
, Nov 9, 2014,
In Gaza
[Excerpt: "We never thought we'd leave Syria, life was good. Everything was cheap, we had security. But we eventually had to.... not because of the government or the Syrian Army, because of the terrorists, mostly al-Nusra then. Now Daesh are there too, but they're the same anyway.

Before we left, it had gotten to the point where we scarcely had access to water, had little electricity... The terrorists destroyed the power lines. The municipality would repair things and the terrorists would return and destroy them.

Two weeks before we left, they blew up a car belonging to an important person in the government in our area. He lived down the street, between our house and the school. My daughter was at school, I was so afraid that she had been hurt.

When we left, we thought it would would only be temporarily, but every day since it has gotten worse.

We went back six months ago, to see if it was possible to return for good. Everythings different, many shops were closed down and the water and electricity were even worse. Everything was worse than ever. As soon as it got dark, the streets were empty. Those of our neighbours who had remained were different too, gaunt, faces drawn."

He spoke of the faux-revolution. "'We want freedom,' they said. What freedom do they want? We had education, health care, security. This is the 'freedom' they want, these terrorists destroying our towns, our culture?"

Even though they have left and feel that they cannot go back, they are patriots, are proud of their country and culture, and it's voices like theirs we need to be hearing: the people who know what's happening on the ground, who are not being fed soundbites by corporate media or funded by the various thinktank incarnations of Soros' foundations but who live/lived in Syria and suffered the draconian takeover of foreign terrorists; the people who support the Syrian army and President Assad because they choose to, who enacted the democracy they choose, not that which the death squads of the west attempt to deliver."]
-
Meeting Syrians in Lebanon
, May 27, 2014,
In Gaza
[Excerpts: "At breakfast one morning, still waiting for my visa application to be processed, I sit working on my laptop. A man keeps glancing my way, and finally comes over to say he likes the Syrian bracelet I wear. We get talking. He's Syrian, from Aleppo. At the end of our talk, he says again how happy it made him to see me wearing this bracelet... and adds, "I can't wear my Syrian flag here because there are so many stupid people, they might kidnap me or worse. I'm not afraid of my government, but I am afraid of these thugs." (Listen to his testimony on witnessing video being staged in Syria, and more.)

*
I visit Jeita Grotto, Jbeil (Byblos), and the cable-car leading up to the hilltop where -in the Middle East-the largest statue of Mary resides. I'm more interested in the scenery, and lovely scenery it is. Coming down from the hill, a thin older man with a pleasant face stops my car and opens the door. We chat a bit. He is also from Haleb (Aleppo), has been working here for years, not because of the manufactured war. But because of the situation, he's recently brought his wife and kids here. I ask my usual simple questions: "What's the problem? What do you think of the President?"

He replies-noting that he is speaking his mind, isn't afraid to do so-that he will vote for President Assad . "I'm with him. Before all of this we were safe and had few problems." I ask the taboo question again, for the sake of clarity, and he replies "I'm Sunni Muslim, but in Syria it's not important what religion you are."

He's Sunni. Bashar al-Assad is Alawi. The Western media has made MUCH of the so-called Alawi devotees to President Assad. But in my experience, in Syria and out, Syrians across the board support Assad. It just depends if they've been corrupted by NED/Soros or other funds or whether they've been seduced by the Wahabi, Takfiri notion of raping, desecrating, destroying Syria for greater pleasures in a promised hereafter.

*
In a village near the Chouf Cedar Reserve, I come across another Syrian who has left because of the armed gangs in Aleppo. He's a talented woodworker, and one evening stops by the hotel to have a cup of warm milk. I've already had a coffee (he saw me in the street earlier and invited me to his employer's house for coffee), and a instant-coffee-milk mixture (everyone calls it Nescafe, whether its Nestle or not) with the guesthouse manager while talking Syria, but "Ibrahim" keeps insisting he buy me a coffee, something.

He shows me photos of his handiwork-lovely wood furniture, cupboards, intricate ceiling decor. I ask if this is what he did for work in Syria. "I had my own shop, but its been destroyed. Our house was destroyed, too." I ask when he'll go back. "I can't go back, the 'rebels' are there, I can't get back."

"Haleb helua, ahlan mekkan. Aleppo is beautiful, the most beautiful place," he says.

We look at online photos of Aleppo.

"See how beautiful it is!" He points out the landmarks, repeating himself, Haleb helua.

The Umayyad mosque, a castle, a hotel which he says is one of the oldest in the world...

"Bas kharaboo. But they've destroyed it all. Here, our house is here.... but it's destroyed. The most beautiful place n the world."

All this is said in the same soft voice, not a trace of anger or bitterness, just sadness, longing."]
About The Author



Eva Bartlett is an independent writer and rights activist with extensive experience in the Gaza Strip, where she lived a cumulative three years (from late 2008 to early 2013),accompanying Palestinian fishers and farmers as they came under intensive fire from the Israeli army. She documented the 2008/9 and 2012 Israeli war crimes and attacks on Gaza while riding in ambulances and reporting from hospitals. From June-August 2016, she visited Syria for her fifth time. Her writings can be found on her blog, In Gaza