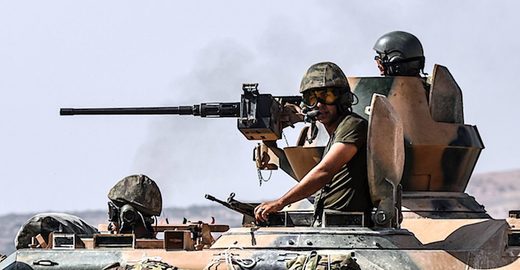 The Russian Army Command in Syria is undertaking security measures for personnel present in Afrin, after the launch of the Turkish military operation against Kurdish forces.
The Russian Ministry of Defense stated that the Pentagon's arms supplies to US-backed groups in Syria triggered Turkey's military operation in Afrin and undermined the peace process. The Ministry added that
the US has undermined the process of political settlement of the Syrian crisis and impeded the Geneva peace talks.
"Uncontrolled deliveries of modern weapons, including reportedly the deliveries of the man-portable air defense systems, by the Pentagon to the pro-US forces in northern Syria, have contributed to the rapid escalation of tensions in the region and resulted in the launch of a special operation by the Turkish troops."
Russian Embassy in Turkey confirmed to Sputnik that the Turkish Foreign Ministry had summoned the Russian ambassador to inform him about the beginning of the military operation in Afrin. "We can confirm the fact of summoning. We have received information from the Turkish foreign service for passing it on to the Russian authorities," the embassy's spokeswoman Irina Kasimova said.
In a statement, the Russian Ministry of Defense said that Russia was withdrawing its troops from Syria's Afrin, target of the Turkish offensive. "The command of the Russian group of troops in Syria has taken measures to ensure the security of Russian servicemen located in the district of Afrin, where the Turkish Armed Forces launched a special operation against the Kurdish armed groups," the statement read.
The Russian Foreign Ministry stated on Saturday that Moscow was closely following the situation in Syria's Afrin and was concerned by the news about the Turkish military engagement in the city.
Moscow has been calling on the warring parties to exercise restraint. The Ministry added that
the Russian position was based on the need to safeguard Syria's territorial integrity, respect for its sovereignty and the political settlement within the framework of the UN Security Council resolution, as well as the accords reached under the Astana process.
On January 20, Turkey's President Recep Tayyip Erdogan confirmed the beginning of the operation in Afrin.
"The Afrin operation has de-facto been started on the ground,"
Erdogan said in a televised speech, adding that
"this will be followed by Manbij,"
referring to another Kurdish-controlled Syrian town.
Turkey has been threatening to launch an operation in Afrin since last week
after the US announced it was going to start training a border security force composed of the Syrian Democratic Forces (SDF), affiliated with the Kurdish People's Protection Units (YPG),
regarded as a terrorist group by Turkey.