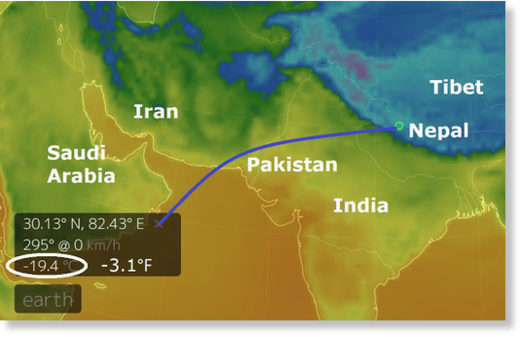 At least another 60 people have died in Nepal bringing the total to 71 after 11 died last week, with 143 more dead just over the border in Uttar Pradesh India from extreme cold in the area.
Twenty-six succumbed to the cold in Saptari while 17 died in Rautahat, nine in Parsa, seven in Siraha and six in Dhanusha. Sugawati Devi Sardar of Dakneswori Municipality-8 and Bisesh Kumar Pandit of Lalapatti at Chhinamasta Municipality-4 became the latest victims of cold today.
In Rautahat, two more persons died today.
With this, the death toll has reached 17 in the district.
Police identified the deceased as Gugali Hajara Mestar, 70, of Matsari, Durga Bhagawati Rural Municipality and Batahu Sarbhang, 45 of Samanpur, Gadimai Municipality-1.
District Forest Office Rautahat said it had distributed six times more firewood than last year to the local levels.
Dhirga Narayan Koirala of DFO said his office had distributed 100 tractors of firewood.
Koirala warned that many more would die if warm clothes, blankets and quilts were not provided. District Police Office Parsa DSP Rajan Limbu said nine people had lost their lives to the cold in the district.
Most of the deceased were above 40 years.
DPO, Siraha said the cold had claimed seven lives in the district.
DPO Dhanusha said six persons succumbed to the cold in the district.
Of them, five died while sitting around a fire and one child died due to cold.
Air service to and from Janakpur has been halted for the past five days due to bad weather.
Budhha Air station Manager Bijay Singh said planes could not take off due to poor visibility.
The cold wave has thrown life out of gear in the mid-Tarai.
People's movement at major marketplaces has waned.
Government offices appear to be deserted.
Crowds of people can be seen sitting around fires at every chowk and alley.
Patients with cold-related health problems are flocking to health facilities.
Fever, common cold and diarrhoea patients have increased, say health workers.