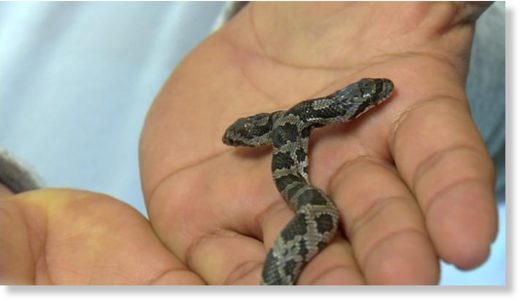 A two-headed snake — or is it snakes? — found this fall by a southwestern Missouri teenager is now on display at a hatchery outside Branson, the Missouri Department of Conservation announced Friday.
The unusual reptile, a nonvenomous western rat snake, was found in October by Terry Lowery under the deck of his family's home in Hurley, about 45 minutes south of Hurley, according to the department.
After the family took photographs of the young dual-headed snake, they contacted the Dickerson Park Zoo in Springfield, and zoo staff forwarded them to the Shepherd of the Hills Fish Hatchery operated by the Department of Conservation.
The hatchery near Branson is primarily a trout-raising facility producing hundreds of thousands of trout a year, but its staff agreed to observe the snake.
Since coming to the hatchery, the snake has shed twice, both heads are eating and all external functions appear normal — aside from the extra head, according to a department news release.
"This is extremely rare," said John Miller, conservation department's Interpretive Center manager at the hatchery, in the news release. "In my 30 years of working with snakes, this is the first time I, personally, have seen one come from the wild."
The snake was put on display in the auditorium of the hatchery's Conservation Center.
Polycephaly — the condition of having more than one head — is extremely rare, but occurs more frequently in snakes than in other animals, according to the conservation department.
"This is similar to Siamese twins in which a developing embryo inside the egg does not fully divide into identical twins," said state herpetologist Jeff Briggler in a department news release.
Briggler said that two-headed snakes may have difficulty surviving in the wild, with possible difficulty feeding, foraging and escaping from predators into holes and crevices.
Another two-headed western rat snake found in 2005 is on display at the Missouri Department of Conservation's Cape Girardeau Conservation Nature Center in southeast Missouri.