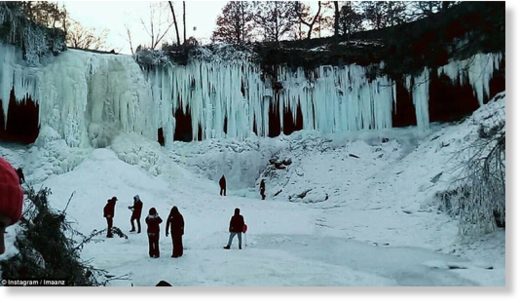 The arctic blast that's bringing negative temperatures to several states across the northern U.S. is causing waterfalls to freeze, windows to crack and people to suffer life-threatening frostbite with just 30 minutes of exposure outside.
Forecasters are warning for those who are outside to bundle up with layers to protect against hypothermia and frostbite that could happen with exposure in the bitter arctic.
The icy cold weather has turned the Minnehaha Falls in Minneapolis, Minnesota into a beautiful frozen wonderland. The popular attraction has completely frozen over due to the super cold single-digit temperatures that have gripped the state over the past few days.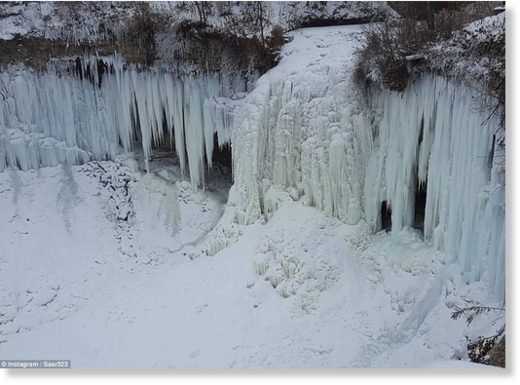 The Minnehaha Creek flows from Lake Minnetonka, which is the biggest lake in the Twin Cities, to the Mississippi River. The falls are just a few miles from where the creek enters the Mississippi River.
The National Weather Service reported International Falls, Minnesota, the self-proclaimed Icebox of the Nation, plunged to 37 degrees below zero, breaking the old record of 32 below set in 1924.
Hibbing, Minnesota, bottomed out at 28 below, breaking the old record of 27 below set in 1964.
'Bitterly cold arctic air will settle in across a large swath of the U.S. as we turn the calendar from 2017 to 2018,' said
AccuWeather
Senior Meteorologist Dan Pydynowski.