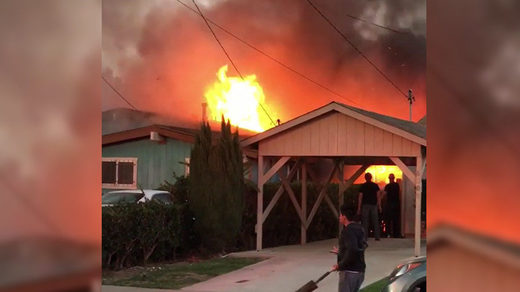 Two people have been killed and two others injured after a small plane crashed into a home in San Diego's Clairemont neighborhood. The two survivors were taken to a nearby hospital with burn injuries.
All four victims of the incident were on board the plane, local authorities said as cited by the local TV channel KABC. The house the aircraft plunged into was apparently empty at the time, officials said. The crash started a fire, which caused further damage to the building. It took firefighters some 30 minutes to deal with it.
The incident happened at about 4:30 p.m. local time, shortly after the plane took off from the Montgomery-Gibbs Executive Airport located less than a kilometer from the crash site.
Witnesses told KFMB, another local channel, that the plane seemed to have had some engine problems before nose-diving. The pilot was trying to make an emergency landing in a schoolyard, but failed as the aircraft slammed into the house.