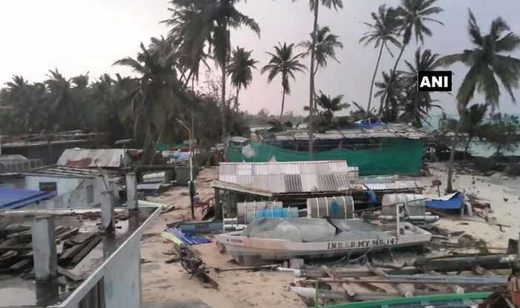 After causing havoc in and around the Lakshadweep islands on Sunday, severe cyclonic storm Ockhi has set its course north and is expected to make landfall in Maharashtra and south Gujarat in the next 24 hours.
The India Meteorological Department (IMD) issued an alert Monday, warning fishermen against venturing into the sea as coastal areas are likely to experience strong winds.
A cyclonic bulletin issued by IMD stated: "The very severe cyclonic storm Ockhi that lay centered over East central and adjoining southwest Arabian Sea, about 420 km west northwest of Amini Divi, 880 km southsouthwest of Mumbai and 1090 km south-southwest of Surat is very likely to move north-northwestward for a few hours and then recurve north eastwards during the subsequent 48 hours and weaken gradually."
The Gujarat government issued instructions to district magistrates, asking them to take adequate precautionary measures. NDRF teams have been put on alert and deployed at critical locations. Defence Minister Nirmala Sitharaman, who is on a tour of cyclone Ockhi-affected areas, on Monday said that search and rescue operations in high seas would not be stopped or diluted till all fishermen, who have been missing since the cyclonic storm hit Kerala's shores, were safely brought back.
Naval ships, helicopters, Coast Guard vessels and Air Force planes are engaged in the rescue and relief operations to track down the 100-odd missing fishermen. A total of 20 fishermen from the state were rescued while the toll in Ockhi-related incidents was officially put at 25.
Talking to reporters after a meeting with CM Pinarayi Vijayan to review steps taken by the Centre and the state, Sitharaman said, "We want to make sure that each and every fishermen who had set sail from Kerala comes back safe." The Minister had earlier visited Vizhinjam and Poonthura fishing hamlets, from where most number of fishermen have been reported missing.
Inputs from Gladwin Emmanuel