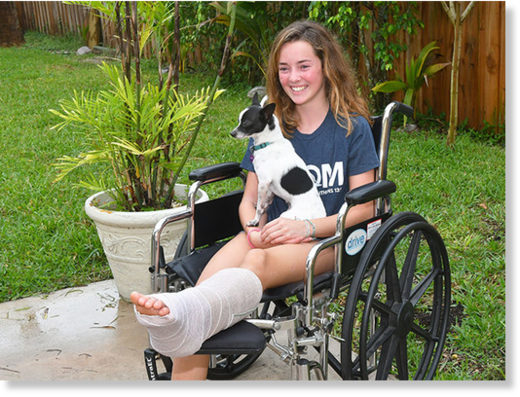 Crystal-clear water and lingering mix swell revealed some excited ocean activity in Central Florida last weekend — both above and below the surface.
On Saturday evening, at about an hour or two before sunset, 14-year-old surfer Kaia Anderson was bitten by what is believed to be a spinner shark off a Floridana Beach access in southern Melbourne Beach.
"Kaia lives right next door to me, she's probably the nicest girl I've ever met in my entire life, and she and her sister go surfing every single day," said local pro Chauncey Robinson, who witnessed the attack. "I'd been up at the access watching the waves for 30 minutes prior and saw a shark go through a wave, but others thought it was a dolphin, since there were a few of those out, too. Then, probably ten minutes before it happened,
I saw a spinner shark jump out the back and splash in front of everyone.
Set waves were coming through, so I didn't see the bite happen, but three other girls who were out surfing flipped around and went on a set wave, rode to the beach on their bellies, and started screaming. I figured it was either a close encounter or someone got bit."
"Kaia came to the beach in front of a fisherman, tried to stand up, but couldn't,"
Robinson continued. "The fisherman dropped his rod, ran straight down to her and carried her up the beach access. I took my shirt off and gave it to the fisherman, who tied it around her ankle. Then I called 911 and we all waited for the ambulance."
According to reports from Kaia's father, Randall Anderson, the bite required more than 100 stitches to repair the wound, which included damage to three tendons.
Thankfully, Kaia was released from the hospital on Sunday evening.
"I saw her yesterday, she told me she's doing okay and can't wait to get back in the water," Robinson finished. "I mean, we live in a pretty sharky area here in Floridana anyway. It's always super troughy and attracts a lot of baitfish and stuff. But these past few days, if you were to sit up there more than 20 minutes, you would've seen them jumping everywhere out the back...At any given time around, you'll see a shark."