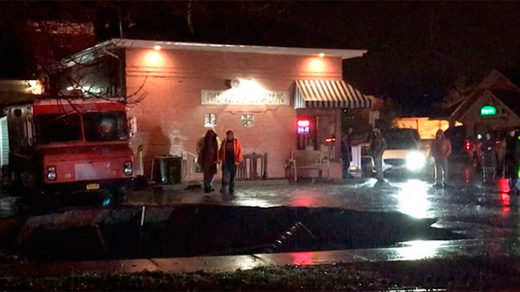 A giant 60ft-by-30ft sinkhole has opened up in a parking lot in Erie County, New York amid heavy downpours.
The whopping sinkhole, which has a stream running through it, emerged Sunday night after rain destroyed a temporary fix made at the site earlier in the week, reports
WIVB.
The sinkhole is around 30ft (9 meters) wide, 60ft long and 16ft deep, according to crews working to stop the hole from getting bigger.
East Aurora Mayor Allan Kasprzak said the sinkhole occurred after the area received two and a half inches of rain in a short period of time: "The water that flows through Tannery Brooke just came through and opened up the temporary stop-gap that we had in place."
"Now it becomes an emergency situation where this becomes a public safety project," he added.
The cavernous gap opened in front of Mikey Dee's Cafe, forcing the business to close indefinitely. The estimated repair costs could reach $1million.
There is no database of sinkhole collapses for the United States, however the
USGS
estimate that sinkhole damages over the last 15 years cost on average $300 million per year.
Many sinkhole collapses are not reported to authorities or news organizations, and many occur in rural areas where they are unobserved, the agency noted. Alabama claims to have the
largest
sinkhole in the US, measuring 325ft long, 300ft wide, and 12ft deep. It collapsed suddenly in 1972.