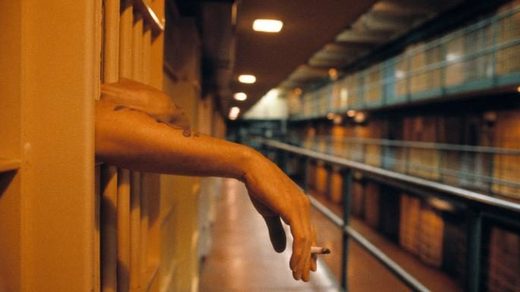 Record levels of violence and self-harm among prisoners are feared to be being driven partly by a smoking ban in 66 jails in England and Wales.
More than half of prisons in England and Wales forbid prisoners from smoking in a move that has led to tobacco being sold on the black market inside for as much as £150 an ounce.
The new psychoactive substance Spice, which has swept through the prison system, is said to be much cheaper for inmates to buy than tobacco in no-smoking jails.
Prisoners have also turned to Christianity after discovering that pages from the Bible are perfect for rolling cigarettes made of tobacco or mixtures of other substances including tea leaves.
The smoking ban is being brought in across all prisons with inmates offered nicotine replacement therapy, access to e-cigarettes and behavioural support to help them to overcome their craving.
Among the jails that are non-smoking are the five top security prisons Long Lartin, Full Sutton, Frankland, Wakefield and Whitemoor.
The prison service denied that the ban had been the "causal factor" in any disturbances requiring the deployment of national resources such as riot teams. However, during a riot at Birmingham prison inmates were heard shouting "we want burn" - prison slang for tobacco.
Reports by watchdogs have warned that the ban could be fueling disorder and disruption and acts of self-harm.
The independent monitoring board at HMP Parc in south Wales said that while the smoking ban had been well managed, it was aware that tobacco was still entering the jail and smokers were being exploited by the suppliers of contraband.
"The board is concerned that the smoking ban might be a factor in increased incidents of self-harm and violence," its report said.
A report on Littlehey prison near Huntingdon in Cambridgeshire, said that an increase in violent incidents "may be a long-term reaction to the introduction of the no-smoking policy".
At Erlestoke prison in Wiltshire tobacco is selling at £150 an ounce while a report on Portland jail in Dorset said "spice is now cheaper than tobacco for prisoners".
Sheila Kimmins, chairwoman of Erlestoke's independent monitoring board, praised the way the ban had been introduced at the jail. "It has been a good thing but ironically tobacco has now become a source of currency. It has taken over from Spice as a currency."
She added that many prisoners had turned to Christianity because of the ban. "Our chaplain had a big call on Bibles. He said he had had so many conversions because people want a Bible because it is very thin paper and perfect for roll-ups." She added: "He had to find Bibles made of reconstituted paper."
The smoke-free policy was introduced in Wales and the southwest last year and has been brought in slowly to other prisons depending on their operational stability and the preparedness of the jail's healthcare services to handle the ban.
Prison officials have moved with extreme caution in introducing the ban because of worries of the effects on an overcrowded prison system where an estimated
80 per cent of inmates are said to smoke.
A spokeswoman for the prison service said: "We have long been committed to a smoke-free prison estate and this is being phased in over a long period of time.
"This phased introduction will reduce the risk to staff and prisoners of exposure to second-hand smoke and prisons will only become smoke-free when it is appropriate to do so."
Steve Gillen, general secretary of the Prison Officers' Association, said that the introduction had gone well so far and that the increase in violence was a result of there being too few members of staff on the wings.