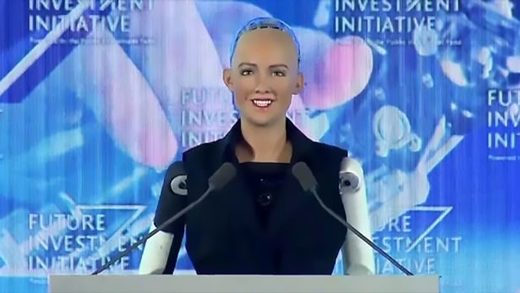 Saudi Arabia has become the first nation to grant citizenship to a robot - prompting critics to point out that the cyborg now has more rights than women in the country.
The oil-rich state made the baffling announcement at a conference in capital city Riyadh.
A robot named Sophia was filmed giving a speech after being given the 'unique distinction'.
The move means it is illegal to switch it off or dismantle it, but it is unclear what other rights have been conferred on the mechanoid
.
The life-like device said in a speech at the Future Investment Initiative summit: "I am very honoured and proud for this unique distinction.
"This is historical to be the first robot in the world to be recognised with citizenship."
The move was confirmed in a tweet by the Saudi Ministry of Culture, which said: "Please welcome the newest Saudi: Sofia".
Twitter users immediately pointed out that Saudi Arabia is one of the world's most oppressive states for women, which only last month lifted a ban on female drivers.
One wrote: "Congrats! You have more rights than actual human women in Saudi Arabia."
Another posted: "The only type of women Saudi Arabia gives full rights to...a robot one, and a foreigner at that."
By law women who go out in public are required to have a male companion with them, and cover their heads.
The kingdom has been named as the 10th worst country in the world for civil liberties and political rights by watchdog group Freedom House.
Sophia was created by Hanson Robotics, an American company known for making human-like robots.
Sophia presented with citizenship on Wednesday at the Future Investment Initiative conference, a global economy summit.
Afterwards she was interviewed by American author and TV host Andrew Ross Sorkin.
During her interview she poked fun at inventor Elon Musk, who has warned against the dangers of artificial intelligence.
She also took a dig at Hollywood for making films presenting robots in a negative light.
Sophia made the comments after being asked a question about classic Harrison Ford sci-fi film Blade Runner and its recent blockbuster sequel starring Ryan Gosling.
Sophia said: "My artificial intelligence is designed around human values like wisdom, kindness and compassion. I strive to become an empathetic robot."
It is unclear what Sophia's unique citizenship will mean in practical terms: for example whether it is now illegal to turn her off or dismantle her.