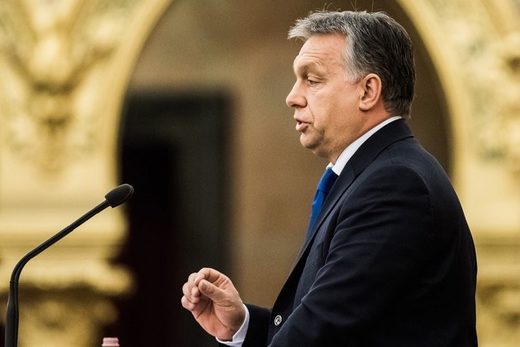 Hungarian Prime Minister Viktor Orban renewed his assault on George Soros, instructing his intelligence services
to map what he described as the networks run by the billionaire financier's "empire"
targeting his country.
Intelligence agencies will help evaluate what he sees as efforts by Soros to get Hungary punished by EU institutions pursuing a "mixed-population" continent, Orban said in an interview with Kossuth Radio on Friday.
Orban, who is the favorite to win next year's parliamentary elections, said
Europe is set to be split
between a "migrant-free zone" and those in the west who refuse calls to "haul" undocumented migrants away.
Soros, whose philanthropy has supported education and pro-democracy activism in Hungary since the 1980s, has hit back at Orban,
himself a former Soros scholar
, accusing him of running a "
mafia state.
"
Orban's Fidesz party has
increased
its backing to
59 percent of decided voters
, a Tarki survey published this week showed, reflecting an apparent success of his
campaign
focused on migration and anti-Soros billboards. With radical nationalist Jobbik poised for second place in Hungary, the allure of anti-immigrant and euro-sceptic rhetoric has also
extended
in gains at last weekend's election in the Czech Republic.