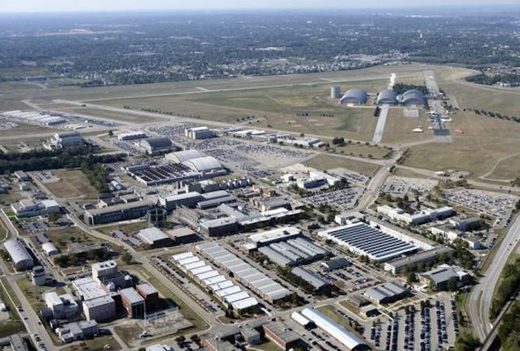 Here's a well-known mystery: many people believe that aliens and their spacecraft from the Roswell incident are hidden in special tunnels at Wright-Patterson Air Force Base in Dayton, Ohio. Here's a little-known fact: Raymond Szymanski worked at Wright-Patterson for 39 years and wrote a book published in 2016 called
50 Shades of Greys
about what he saw there.
Here's a new mystery: why is the book suddenly back in the news? Is someone getting us ready for full disclosure?

A number of media outlets revisited (or visited)
50 Shades of Greys
recently after its author was interviewed by
Sun Online
. In the book, published in January 2016, Szymanski begins with details of his first days on the job at Wright-Patterson Air Force Base in 1973 when a mentor named Al introduced him to the Avionics Laboratory's Management Operations Office by asking, "Have you heard about our aliens?"
He said that in 1947 there was a crash down in Roswell and they brought the machines and the aliens here for inspection and said they keep them in secret tunnels under the base. When I asked him how he came to know about the secret, he responded, 'Everybody who works on base knows'. I was stunned. Me, a young co-op student barely into his first week, was now initiated into a small select group of 10,000 people and given their most incredible secret ever - that we have aliens and their craft in our tunnels on our base.'
Szymanski says he then began a clandestine and at times overt investigation into what his mentor was talking about. While his onsite snooping ended with his retirement from Wright-Patterson in 2011, his search for evidence continued until the book was published in 2016.
In his recent interview, Szymanski does his best to avoid revealing details of what he's discovered while hinting at what he found.
For the next four decades I had dozens if not hundreds of brief conversations regarding the 'secret' I'd been given during my first week on base. The important fact established here is that not one single person at that time ever said, "We have no aliens here, you crazy son of a b*tch"... I saw lots of smiles but no denials. I've been basically investigating locations on the base that I think could contain clues to its history relative to extraterrestrials and UFOs ever since. By looking at evidence, which I document in the book in text and photographs, it would appear to me as if the stories are true.
For more of this article, go
here.