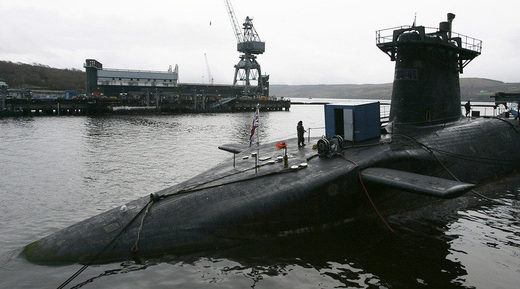 Britain's Attorney General is investigating whether UK Prime Minister Theresa May can be sued for conspiring to commit war crimes after she claimed she is willing to launch Trident nuclear weapons.
An alliance of activists have presented an indictment after May, Defense Secretary Michael Fallon, and others said they would be willing to carry out what the groups termed "indiscriminate mass slaughter" by using nuclear missiles.
The Ferret,
an investigative journalism website
, reports that proceedings in local courts have already begun but that they need permission from the Attorney General's Office (AGO) to proceed.
A number of groups in England and Wales have formed Public Interest Case against Trident (PICAT), which has the backing of the Institute for Law, Accountability and Peace.
In a debate on Trident renewal in July 2016, the prime minister announced in the House of Commons she would launch nuclear weapons if she felt it was merited.
"The whole point of a deterrent is that our enemies need to know that we would be prepared to use it," she told MPs.
An AGO spokeswoman told the Ferret: "There is a considerable amount of material to work through and we will provide a response as soon as reasonably practicable.
"The Attorney will consider whether there is sufficient evidence to prove the charges proposed and, if so, whether a prosecution is required in the public interest. The Attorney will act independently of government when taking this decision."
Nuclear law expert Professor Nick Grief told the Ferret: "The importance of PICAT lies in its emphasis on the rule of law, whereas nuclear weapons are the very antithesis of law."
PICAT's case claims May and Fallon breached section 51(1) of the International Criminal Court Act 2001 and section 1 of the Criminal Law Act 1977.
The draft document argues that May and Fallon "conspired together and with other persons to commit the war crime of excessive incidental death, injury, or damage by continuing and/or agreeing a policy to maintain the capability to launch a nuclear attack on targets in and around Moscow."
PICAT organizer Angie Zelter told the website: "We are trying to present our public interest case to enable a court of law to examine our evidence and prevent the disaster of a nuclear holocaust before it is too late."