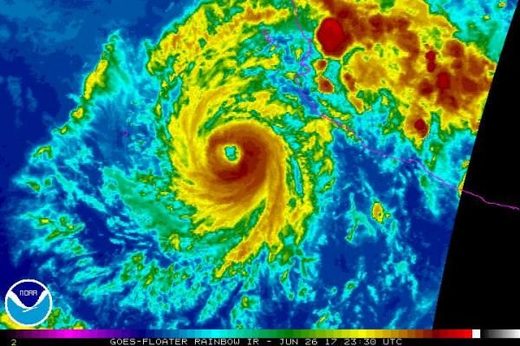 The National Hurricane Center said Dora became the first hurricane of the 2017 season when it formed early Monday, and is expected to produce heavy rains and potentially life-threatening conditions.
The
NHC
said Hurricane Dora, which has maximum sustained winds of 90 mph, is about 225 miles southwest of Puerto Vallarta.
The NHC said in its Monday afternoon advisory that the storm system is moving west-northwest -- further out into the Pacific Ocean -- at a speed of 13 mph.
Forecasters said, though, that swells from Dora are creating potentially life-threatening surf and rip current conditions for the southwestern coast of Mexico.
There are no tropical storm watches or warnings in effect.
Dora is expected to start weakening on Tuesday and dissipate completely by early Friday.
Forecasters expect Dora to drop as many as 2 inches of rain Monday on Mexico's Guerrero and Michoacán states.
Dora is the first hurricane of either the 2017 Pacific or Atlantic hurricane seasons. It followed six tropical storms -- Arlene, Bret
and Cindy
in the Atlantic and Adrian, Beatriz and Calvin in the Pacific.