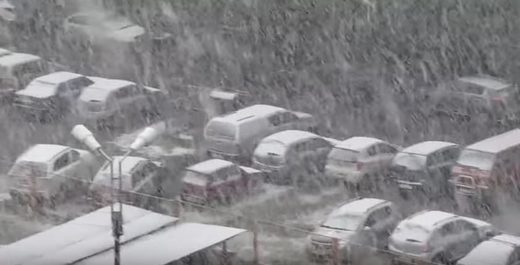 According to
newsru.com
summer snow has fallen across Russia in Sochi, Kazan and Murmansk while anomalous heat has been experienced in Siberia. Earlier this month
snow fell in Moscow
, just as Donald Trump pulled out of the Paris climate deal.
This video was recorded in Murmansk on 20th June 2017.
This tweet shows snow in Monchegorsk on the same day.
In Barnaul giant hail fell, and heavy rains caused flooding in several cities of the region.
Meanwhile anomalous heat was recorded in the Siberian regions with the air temperature rising to +40 degrees in places. Since the beginning of June, the Russian cities Tomsk and Novosibirsk have been experiencing a
butterfly invasion
, a 'butterflypocalipce:' a phenomenal amount of Black-veined White butterflies have 'attacked' Siberian regions. There are so many of them that the ground is almost shaking!